Felix Vicious'S PROFILE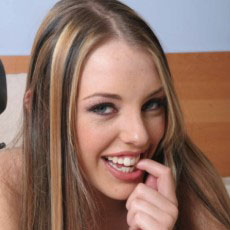 Felix Vicious
pornstar details
Date of Birth: 26/08/1983
Ethnicity: White
Height: 159cm
Eye Color: Hazel
Hair Color: Blonde
Felix Vicious is a pretty pornstar who was born and raised in the city of Denver, Colorado. While she's a natural brunette with pretty blue-grey eyes, she has appeared with a whole host of hair colors from light brown to red and blonde. Standing at 5 foot 8 inches and weighing approximately 130 pounds, Felix posts measurements of 34B-28-34, all of it completely natural, with no implants.' Other body modifications include piercings in her right eyebrow, left cheek, tongue and navel. As far as tattoos, Ms. Vicious has a few, including a Chinese dragon on her right shoulder blade, a tribal 'tramp stamp' on her lower back, and a red and black five pointed star on her right calf. Over the course of her career, Felix Vicious has appeared with several alternate credits including Kelly, Felix, Nicole, Ellen, and Felicity.
Felix had just turned 18 and was working at dead-end job as a telemarketer, when she happened to meet a couple of pornstars, Bisexual Britni and Shay Sweet, who were signing autographs at an adult store Felix was shopping in. The got to talking, really hit it off, and after they had made a connection, the ladies invited Felix to come down to the Los Angeles area to see what the porn business was like. What Felix though would be a short but interesting visit turned into a permanent move to Southern California.
While Felix was nervous when she filmed her first scene, and had difficulty remembering not to watch herself in the monitors, her early jitters gave way to real enjoyment, and a pornstar was born, shooting over 200 scenes in her first couple of years in the business. Felix cultivated a sexy punk rocker image that fans really seemed to enjoy, and she was a natural in front of the cameras.
Felix Vicious chose her name combining the name of a cartoon cat and the last name of a famous punk rocker. After a couple of years in the business, she got involved with a man who was also in the business, and as a result she only appeared with him, and in solo and lesbian scenes for a while. In 2006, after leaving a nightclub late at night, Ms. Vicious was allegedly robbed by three men at gunpoint, causing injuries to her head and hands, and causing her to reevaluate her lifestyle. She retired from appearing in adult films soon after this rumored incident.
The lure of the easy money and the glamorous lifestyle was more than Felix could bear, and in less than one year she was once again appearing in XXX features, including some notable appearances in foot and other fetish films, getting her kink on. Felix also branched out, attended college and started working as a DJ in nightclubs, and dabbled in directing, trading her directorial services and going to appearances for adult entertainment companies in return for their promotion of her DJ gigs.'
It would appear that Felix Vicious' performances in front of the cameras have ceased, but she strikes such a compelling figure that her scenes keep getting re-released on compilation titles, and now that she's entered her MILF years, there's surely demand for her to return if she chooses to. While we'll be keeping an eye out for her return, in the mean time, you have a collection of some of her finest performances right here at your fingertips, Mr. Porn Geek, the ultimate porn streaming site!
MORE PORNSTARS YOUR MIGHT LIKE
BACK TO PORNSTARS