Audrey Hollander'S PROFILE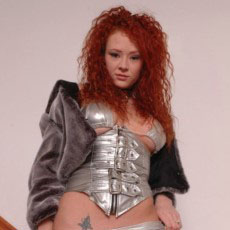 Audrey Hollander
pornstar details
Date of Birth: 4/11/1979
Ethnicity: White
Height: 168cm
Eye Color: Blue
Hair Color: Red
Audrey Hollander is a famous redheaded pornstar who married adult producer Otto Bauer at a cafe when they were both in Florida. She was born in Virginia but grew up in Louisville, Kentucky where she lived in a strict home and enjoyed extra-curricular activities as a cheerleader. Attending college at Loyola University of Chicago, she graduated with a degree in education. The chance meeting with Bauer happened while she was on a vacation in the year 2000. On that fateful day, he actually proposed marriage and she accepted! After they spent a week together in Florida, they returned to his home in New York where he was working to produce adult movies under the alias name Eric Jeter. He suggested that they should film some scenes of themselves together and she agreed, so that's exactly what they did. Once they had a few dozen scenes filmed, they distributed them with a pro-am label and they got a great response so they made the move to Los Angeles where her career could really blossom.
The couple decided to both continue working in porn movies but it was hard on them both. For her it was difficult to accept at first that her husband was fucking another woman. Audrey had to continually remind herself that they weren't making love, they were just fucking for the camera. A few years into her career she was given the chance to direct along with him and that union produced the "Otto and Audrey Destroy the World" series of titles. Many of her scenes have anal sex in them and she has a reputation as an anal queen because of it. In fact, she has reportedly said in interviews that she can't even remember any scenes in which she did not have anal sex! Ms. Hollander has won several industry awards including Best Anal Sex Scene, Most Outrageous Sex Scene and the coveted Female Performer of the Year title for 2006.
Audrey Hollander is still active as of 2014 and has so far appeared in more than 435 titles. Her official Twitter page has tens of thousands of followers and she posts explicit and other pictures there. She and husband Otto divorced in 2012 and have gone in their separate directions. Fans of this hot redhead love her unconditionally and hope that she continues getting her ass fucked hard and deep on film. PornHubPremium will continue to offer all of the great scenes from the collection and they will add more as they get released.
MORE PORNSTARS YOUR MIGHT LIKE
BACK TO PORNSTARS