Sasha Grey'S PROFILE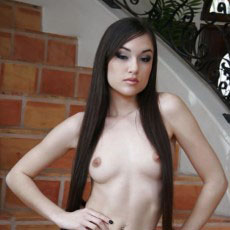 Sasha Grey
pornstar details
Date of Birth: 14/03/1988
Ethnicity: White
Height: 168cm
Eye Color: Brown
Hair Color:
Sasha Grey is a beautiful slim brunette girl who comes from Sacramento, California. She is a very smart girl who was always near the top of her class and in fact was often said to be bored in school. Due to moving several times she attended many different schools and this also meant that she had to start over socially with her age group each time. Her intention was to pursue a career in performing arts and specifically acting was one thing she set her sights on. During her junior college days she worked as a waitress to help her cover all of the bills that kept coming in. It turned out that she began a relationship with one of her male co-workers and he was a man almost a decade older than she was at the time. According to statements attributed to her, he was one of the main reasons that she tried out so many things sexually before even entering the porn business. They would often watch porn movies then act out the scenes they had just seen.
It all came into clarity one day for Sasha who realized that working in porn movies was what she wanted to do. She also knew that she was really good at it because she had already done more things than most of the movies she'd watched. Initially she had hoped that once she was established in porn movies, she could transition to more mainstream roles which was still her goal. When she had saved enough money from her waitressing job, she moved to Los Angeles and got a talent agent. As luck would have it, the film "Fashionista Safado: The Challenge" needed a replacement performer and that was the big break that she needed. This film was very popular and launched her career to a very wide audience and her name was quickly on the lips of major porn studios as well as fans.
Sasha has gone on from there to make hundreds of porn movies and many times more individual scenes and porn videos. Just about every major porn performer has worked with her at one time or another and she also directed a few films herself. She has won several industry awards which further set her one step apart from the bulk of performers. In 2008 she landed a role in a film produced by an Academy Award winning producer which fulfilled her goal of becoming a mainstream actor for the most part. Other mainstream appearances include being featured in a popular music video and having a role on the television series "Entourage." All of her greatest porn scenes are available here and you can watch them all right from the comfort of your favorite chair.
MORE PORNSTARS YOUR MIGHT LIKE
BACK TO PORNSTARS