Charley Chase'S PROFILE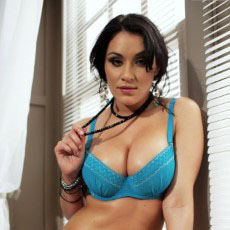 Charley Chase
pornstar details
Date of Birth: 6/08/1987
Ethnicity: Latina
Height: 157cm
Eye Color: Hazel
Hair Color: Brunette
Charley Chase is the cute name of this cute pornstar who hails from Louisville, Kentucky. Standing at only 5 feet 2 inches tall she has a really great body that sizes up at 34D-25-36. She is part Italian and American and she has lovely brown hair. There are several tattoos on her body but some of them were added during her career so might not show up in all scenes. Ms. Chase also has a few piercings including to her tongue, nipples, navel and clit. The first time she ever saw a men's magazine was also the first time she ever felt turned on, and it was that which helped her set her sites on adult entertainment as a career goal.
While working in fashion design and attending classes as a student, she got some advice from a pornstar friend of hers. It was not too long afterward that she began appearing in porn movies herself at the age of 20. During her career she has worked for just about all of the major studios and many minor ones too. Her beautiful face and body have also appeared in numerous men's magazines which helped her achieve that goal of becoming big in the adult field. More than 350 movie titles are in her filmography and many of those are classics.
A very diligent fitness enthusiast, Charley has long said that whenever she is not working or sleeping or otherwise occupied, she is working out. Keeping herself fit is not just a goal for appearances, but for her good long term health. She has been the recipient of multiple industry awards and has even been called the Queen of Cumming for her on screen orgasms. There was one incident in 2011 that took place in public and lead to some investigations about whether or not something improper took place. Other than that she has had a fairly straightforward career and is known worldwide by porn fans. Mr. Porn Geek has her very best scenes ready for you to view now!
MORE PORNSTARS YOUR MIGHT LIKE
BACK TO PORNSTARS