Eva Angelina'S PROFILE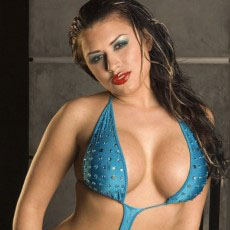 Eva Angelina
pornstar details
Date of Birth: 14/03/1985
Ethnicity: White
Height: 160cm
Eye Color: Brown
Hair Color: Brunette/Shaved
Eva Angelina was born in Orange County, California to a wealthy family. However when she was still in school, her father reportedly had trouble in business and lost nearly everything, plunging the family to near poverty levels. Being a rebellious sort, she began getting into trouble at school and with others around the neighborhood. She had been allegedly picked up by the police on several occasions but never charged with any crimes. By the time she was eighteen years old she was living on her own and wanting to get involved in the porn industry in order to make some money. Besides which, she had allegedly already slept with dozens of men and was very interested in sex for its own reward.
Miss Angelina answered a classified ad from a small producer in Southern California that wound up being a big break. Her scene was a threesome with well established male performer Mr. Pete and Clark Kent. It was themed around a dating TV show and at the end of their "date" she chose to have sex with one of them which was then filmed. After the movie and she herself both got great reviews from industry insiders, she was very eager to work more right away. Shanes World hired her on an exclusive contract for the next four months and she performed in several movies for the studio. Working steadily on both the West and East coast meant that she was travelling a lot but loving every minute of it. Her income was improving drastically and she became well known for her dark rimmed glasses, great smile, adventurous attitude and her skill giving blowjobs.
Eva Angelina is one of the more popular pornstars in recent times and has performed in more than 600 films since her debut. The list of industry awards that she has won is very long and includes Female Performer of the Year, Best Actress and Best All-Girl Group Sex Scene. Her accolades also include being named the Penthouse Pet of the Month in June of 2010. All of her greatest and most well known scenes are here at Mr. Porn Geek for you to enjoy at your leisure. Watch them on your smartphone, mobile device or home computer as often as you like!
MORE PORNSTARS YOUR MIGHT LIKE
BACK TO PORNSTARS