Lily Thai'S PROFILE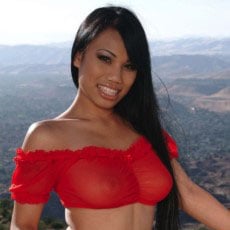 Lily Thai
pornstar details
Date of Birth: 7/11/1981
Ethnicity: Asian
Height: 160cm
Eye Color: Brown
Hair Color: Black
Lily Thai is a beautiful porn star with a mixed race heritage that gives her an interesting and exotic look. Originally from Polynesia, Lily is of Italian and Filipino heritage. Lily has taken a few breaks from the adult industry, but always returns because fucking for her fans is something she truly loves. Standing in at a petite 5 feet 3 inches tall, and weighing about 105 pounds soaking wet, Lily is proof positive that sexy things come in small packages, though in 2012, when she her most recent porno comeback, Lily appeared with new big breast implants, making her measurements 34C-24-34. Her newly big boobs aren't the only body modifications she's made, and her nipples, tongue and clitoris are pierced, showing that she is one adventurous chick!
Lily's career in adult entertainment started as many do, with stripping, while she was attending college in Austin, Texas. She found that she liked the attention and fame that stripping got her, and figured porn would give her more of that sexual attention she loves. Lily has many talents that are sexual in nature, but the one that most other porn stars might covet is that she is a squirter. Lily can stream liquid into the air when she comes and has been featured on many squirting porn DVDs. One notable performance of Lily in her squirting glory is called Flash Flood 8 by Coast to Coast, and can be seen on Mr. Porn Geek, in it Lily's pussy gets pounded by a guy until she cums and squirts all over his hard cock.
Of course, due to her heritage, Lily also gets cast in a wide variety of Asian fetish movies. Lily doesn't mind being cast in any type of movie, as long as she gets to have lots of orgasms. Lily is a completely bisexual slut and has appeared in a lot of lesbian films, and some solo masturbation movies as well as hardcore guy on girl fuck films , and whether she is credited as Lilly Thia, Lily Tai, Lily Thai, Lilly Thai, Lily Than or Lilly Tai in a porn movie, you will know that this petite Asian porn star packs a hot squirting orgasm into every smut film that she can!
MORE PORNSTARS YOUR MIGHT LIKE
BACK TO PORNSTARS