Alison Tyler'S PROFILE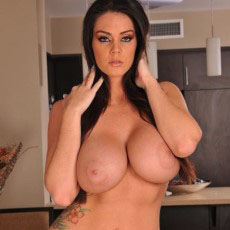 Alison Tyler
pornstar details
Date of Birth: 5/01/1990
Ethnicity: White
Height: 183cm
Eye Color: Green
Hair Color: Brunette
Alison Tyler ? what a woman! Note that unlike quite a few of the other girls I've featured here, Alison Tyler likes to mix it up in the types of experiences she indulges in. What does Mr. Porn Geek mean by that? Well, let's just say that if you've ever wanted to find a girl that can go from fucking to fitness in a matter of seconds, Alison Tyler is the lady for you. She's been on something of a crusade recently to help people get healthy: she took a keen interest in bodybuilding at the end of 2013 and hasn't looked back since. She's a California beach babe with a great ass and of course, an incredible ability to keep dicks rock hard while she's teasing and pleasing them.
One thing that separates Alison Tyler from the rest of the pornstars out there is her height. Standing at 6 feet tall, it's fair to say that Alison Tyler is probably one of the tallest babes out there that got famous from fucking. Don't let the height fool you though, since as Mr. Porn Geek always says, when you're laying down, everyone's the same! Alison's a keen animal lover and regularly shares pictures of her pets looking cute.
The types of scenes that you'll see Alison Tyler perform in include lesbian kissing sessions, taking Lex Steele's fat black cock in her wet pussy and one of the more comedic ones: hitting the movie theatre with her 'stepson' and jerking him off. The video's pretty funny, because the guy is tiny as hell compared to this hot, leggy goddess.
Anyway, for a good tall pornstar with a love of fitness and sexual pleasure, be sure to visit Alison Tyler on all of her social media accounts and of course, knock one out while watching her porn ? it's what she would want!
MORE PORNSTARS YOUR MIGHT LIKE
BACK TO PORNSTARS