Havana Ginger'S PROFILE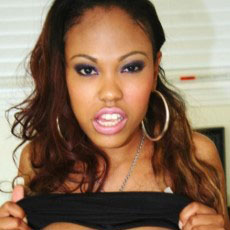 Havana Ginger
pornstar details
Date of Birth: 27/02/1984
Ethnicity: Latina
Height: 160cm
Eye Color:
Hair Color: Black
Havana Ginger is a pornstar who also loves to perform in live cam shows as it allows her to directly interact with her fans. Havana has a twin sister who is also in the porn business who goes by the name of Savana Ginger. These two slutty twins have often performed in the same hardcore sex movies together! Now that's true sisterly love! While Havana is actually Cuban, her smooth dark skin and lovely hair often get her cast in ebony fetish movies, made for fans who love to see black chicks fucking. When she started fucking on film, Havana's stage name was initially Mika Brown, but she decided to change her name to something that represented her Cuban heritage of which she is so proud.
Havana Ginger was actually porn model agency LA Direct's first contract model. That career move got her cast in tons of porn movies and helped her skyrocket to mainstream porn fame. Her giant breast implants also helped Ms. Ginger get noticed in the porn business. She allegedly asked her surgeon for 550cc implants, but when she woke up, they were slightly bigger than she expected at 600cc. Havana didn't mind since ultimately it made her more successful and able to have more fun in hardcore sex movies. Now Havana has E Cup tits sitting on her cute chest, which seem big but not outrageous on her 5 foot 3 inch tall frame.
Watch one of Havana Ginger's hottest performances right here on Mr. Porn Geek, in a movie called California Bad Girls 2. Even though she is of Cuban descent, Havana grew up in The Golden State, and is a true sunshine loving California girl at heart. Ms. Ginger is also incredibly naughty, perfectly fitting the bill for this porn movie from Insanity Pictures. Havana loves showing off her huge tits and then getting plowed by some guy she barely knows, and her performances really show off her love of hard-charging sex. It would seem that Havana is most happy when all of her holes are filled and she's getting used by a hot guy in a rough hardcore sex scene.
MORE PORNSTARS YOUR MIGHT LIKE
BACK TO PORNSTARS