Bailey Blue'S PROFILE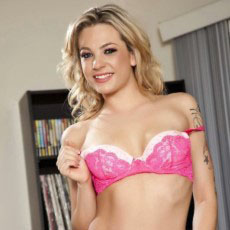 Bailey Blue
pornstar details
Date of Birth: 10/08/1989
Ethnicity: White
Height: 168cm
Eye Color: Blue
Hair Color: Brunette
Bailey Blue also known as Dahlia Sky was born in Lake Elsinore, California. She had to change her official stage name from Blue to Sky because of a trademark filed in 2007 from a clothing store for the former name. While this may have been cause for some confusion in fans, it's hopefully been made clear enough at this stage of her career. Reportedly she was recruited by an agent based on her social media profile and she decided to pick up on the offer a couple of years later when she signed with a top adult talent agency. There are several tattoos on her body including a skull, some kissing lips, another skull and cross bones design, a rose and some text on the back of her neck. In contrast to her multitude of tattoos, she only has a couple of body piercings which are to her nipples and navel.
After she had begun to make porn movies she was really questioning her decision to use an agent. She felt that she could probably get herself work without any help and without having to pay someone. So after speaking with some friends about her decision she fired her agent and set out on her own. The task proved more difficult to accomplish than she had expected but she slowly but surely kept producing porn scenes for her growing number of fans. People had been trying to pressure her into getting breast implants too but she was interviewed and asked that question and said that she would only consider implants if she was in her old age. So for now at least, this girl plans to stay as natural as she can and for the most part that makes porn fans happy. The work that she's done since joining the adult movie business has been diversified. Not only does she perform hardcore scenes, but she has also taken part in several BDSM scenes and has shown a real knack for it.
Bailey Blue aka Dahlia Sky has already performed in more than 235 scenes in her still very new career. She has worked in more films than a lot of more seasoned veterans and shows no signs of slowing down as of this writing. Whether you're a fan of straight hardcore fucking or alternative kink like BDSM and related fetishes, this girl has got your number. Mr. Porn Geek has a lot of her best scenes so browse through them and make a selection for some intense action.
MORE PORNSTARS YOUR MIGHT LIKE
BACK TO PORNSTARS