Monique Alexander'S PROFILE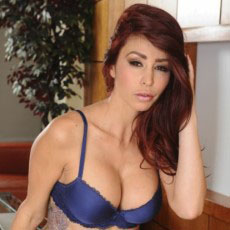 Monique Alexander
pornstar details
Date of Birth: 26/05/1982
Ethnicity: White
Height: 165cm
Eye Color: Hazel
Hair Color: Blonde
Monique Alexander was already a well-known centerfold for men's magazines when she found herself in the position to try a porn shoot. She had traveled to Mexico for a photo shoot for Hustler Magazine, and one of the porn stars who was supposed to be shooting video had to leave, so Monique was asked to fill in, and she said yes! For the first 3 years of her porn career, she only licked pussies and fucked girls with strap ons or her fingers, because she believes that it's important to be firm with your boundaries. Then she saw the opportunity of doing boy girl sex scenes which satisfied her fans who had been waiting like horses at the gate for her to get fucked by some cock. She was very lucky, her first guy on girl video led to an exclusive contract with a very reputable and well-loved porn company called Vivid.
Monique's fucking skills are award winning. She's won 4 AVN Awards, for Best All-Girl Sex Scene, Best Group Sex Scene, Best Couple's Sex Scene and Best All-Girl Couples Sex Scene. Her popularity is also reflected in her social media accounts. On Twitter, where she posts behind the scenes photos and information about things she loves, like rescuing dogs and horoscopes, she has over 100,000 followers who are interested in seeing everything she has to say.
Monique has an inspiring story of how she got into the industry. She started as a shy girl who might have been a little insecure, like many women are. However, she wanted to move out of her parents' house and her job as a receptionist simply didn't pay enough, so she got a job taking off her clothes at a strip club. Monique thinks that dancing nude helped her develop the self-esteem and confidence that she has today. Soon, she was doing centerfold photo shoots with famous photographers like Earl Miller and Suze Miller. Being around other models in lesbian photo shoots also gave her even more confidence.
Soon after Monique's fame grew, due to her expansion to cock fucking and sucking, she hosted a fun and sexy show on XM Radio. Other opportunities that her fame has afforded her is when she participated in Sex Week at Yale University. This was a fun event, in which she and legendary porn star Ron Jeremy debated with two porn critics.
MORE PORNSTARS YOUR MIGHT LIKE
BACK TO PORNSTARS