Silvia Saint'S PROFILE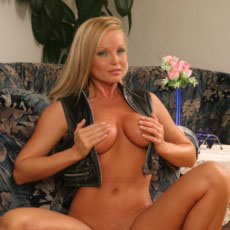 Silvia Saint
pornstar details
Date of Birth: 12/02/1976
Ethnicity: White
Height: 165cm
Eye Color: Blue
Hair Color: Blonde
Silvia Saint was born in the city of Kyjov in the Czech Republic. She is an Aquarius according to the zodiac charts and has only one tasteful piercing to her navel where she usually wears a diamond or nothing at all. Her slim but curvaceous figure has been the subject of marvel from porn fans ever since her debut around 1997. Her all natural approach has come back into fashion after many pornstars in recent years have been adorned with multitudes of body piercings and tattoos. Before she became involved in adult films, Ms. Saint was attending college and studying business management. From there she worked as manager for a large hotel in her home country. No matter what she did though, it never seemed like she was able to live well and save money to improve her life. That was what made her receptive when an offer to work as a lingerie model came to her.
For a while she worked in European magazines and then a few amateur style videos. The company Private Media discovered her through these and contacted her to star in some professionally produced porn videos. After her very first one reached high levels of success, she moved to Los Angeles, California which is known as the porn capital of the world. Silvia lived there for a full three years which are arguably some of her best years in the business and she made a lot of scenes at that time. The American adult magazines noticed her beauty and she has appeared in several of them including High Society, Swank, Cheri and she was even picked as Penthouse Pet of the Year. In May of 2000 she announced that she would be returning to her home country which she missed terribly. While many people feared this meant the end of her adult career, she continued to work hard in porn from Prague.
Silvia Saint is still working in the adult industry as of this writing and has so far appeared in more than 315 titles. Her work includes many photo-shoots and other scenes that make her one of the most recognized names, faces and bodies in the porn business. Fans from all over the world follow her official Twitter accounts and keep track of her latest projects that way.
MORE PORNSTARS YOUR MIGHT LIKE
BACK TO PORNSTARS