Rachel Love'S PROFILE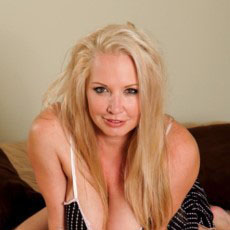 Rachel Love
pornstar details
Date of Birth: 22/11/1973
Ethnicity: White
Height: 157cm
Eye Color:
Hair Color: Blonde
Rachel Love is a blonde pornstar with big natural boobs, who hails from the city of San Bernardino, California. Her hair is naturally blonde and her eyes are hazel. Standing at 5 feet 3 inches tall and weighing 120 pounds, 20 of which have to be in her breasts alone, her all measurements are an astonishing 36F-27-34, making for one amazingly appealing package! While she has just one tattoo on her body, it's a big one that's hard to miss, a wide design, similar to a lower back tram same, but it spreads nearly hip to hip across her pelvis, which in addition to her sole piercing of her navel, certainly helps to draw one's eye away from this her big tits! Over the course of her career, she's been credited under a couple of variations in her chosen name, specifically, Rachael Love and Rachal Love.
Rachel Love has had a long career that has seen her go from a busty little thing starring in college cutie-type productions to a curvy MILF, though with some notable interruptions to her career trajectory as she took a few hiatuses from the industry.'
As Ms. Love tells it, once she turned 18, it was like her inner sexual floodgates were released, and she soon became what she describes as a 'dirty dirty girl.' Her breasts were in full bloom by 18, and the attention they got her had her wondering what she could do with them. For her it didn't matter if it was guys or girls, she could talk them into being bad with her. She was working as a real estate agent in 1993, though it wasn't going very well for her at the time, and she was sunbathing at her apartment complex's pool, when she was approached by an adult film producer about perhaps appearing in some photosets and porn, and after going in for some test photos, this big chested hottie decided to go for it, as it had always been a fantasy for her.
Starting out with solo scenes and lesbian work, invariably in titles for big tits fans, by the end of her first year she was appearing in boy/girl scenes, and a year or so after that she was doing anal and double penetration sessions, much to her fan's delight.
In 1997, in reaction to an HIV scare going through the industry, Rachel took a break from taking cock on camera to concentrate her efforts on feature dancing in gentlemen's clubs, though after a year or so, she was back in front of the cameras, though back to doing only solo masturbation sessions and lesbian scenes, though she eventually worked her way back to male-female couplings. Rachel's comeback was relatively short-lived, and she retired again a couple of years later, to settle down and start a family.
After a six year absence, Rachel returned to the adult entertainment business, and was warmly welcomed back by her fans. Time had passed, and as luck would have it, Rachel was well positioned to transition to the newly-hot MILF genre, getting several 'cougar' roles, taking on men and women as a curvy, busty and confident mature woman.
Rachel Love is still active in the porn industry and all told, she's been in over 230 titles to date, and contrary to porn industry norms, is experiencing even greater success now that she did when she was a fresh faced girl in her 20s. Rachel Love maintains an active twitter feed, where she keeps fans abreast of the latest happening in her life, but if you want to see her hottest performances, you're already in the right place, Mr. Porn Geek!'
MORE PORNSTARS YOUR MIGHT LIKE
BACK TO PORNSTARS