Nikita Von James'S PROFILE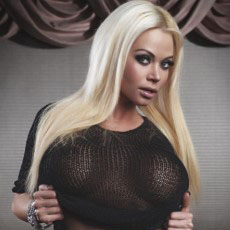 Nikita Von James
pornstar details
Date of Birth: 11/04/1977
Ethnicity: White
Height: 163cm
Eye Color:
Hair Color: Blonde
Sexy peroxide blonde bombshell and immensely popular pornstar, Nikita Von James, is a busty white girl who was born in Russia, and now lives in the United States of America. While her natural hair color is brown, she has made her light blonde shade part of her signature look and rarely appears on film with a differing hair color. Standing at a petite 5 foot 4 inches and boasting mind boggling measurements of 34D-25-36, achieved with breast implants, she's one busty and toned sex kitten, weighing in at only 110 pounds. While there is certainly a vocal minority of porn fans who enjoy a more natural look, there's no denying the appeal of Nikita's big breasts married to her impossibly small frame and bleached blonde hair.
Nikita enjoys some minor body modification aside from her impressive bust, with a tattoo on her arm with Chinese pictograms, a 'tramp stamp' on her lower back, and a pierced belly button. Over the course of her career she has appeared under a couple other names before, variations on her primary alias, like Nikita Jaymes or Nikkita James.
While she was raised in Russia, her life took a turn when she came to America as a foreign exchange student, hoping to immerse herself in the English language. Once experiencing the country firsthand she decided that she would make it her home. Nikita had a long-term fascination with pornography and when watching it, would often fantasize that it was her receiving the attentions of the men she saw on her screen. Being in America gave her easy access to the country's adult industry, and in 2009 she made her porn debut in a lesbian sex scene with another sexy blonde, Jana Jordan.
While Nikita had initial restricted herself to lesbian and solo work at the outset, after a year in the business she branched out and included sex with men in her professional repertoire. She also began dancing in gentlemen's clubs, appearing as a feature entertainer throughout Southern California and in Las Vegas, Nevada.
While she was initially hesitant to appear with men on-camera, she more than made up for that reluctance by entering a most prolific period in her career, taking on multiple men and appearing in interracial scenes, always broadening her on-screen horizons. Her performances have certainly gained her a lot of fans, with an active twitter feed with over 106,000 followers.
Nikita considers herself to be a lifetime student, ever intellectually curious and always trying to learn new things, just for the joy of taking in new information, enrolling in classes in a local university. Her fame as a pornstar has allowed her the financial freedom to pursue whatever it is that captures her interest, and when she's not on-set making a movie, she lives a low-key 'normal' life, hanging out with friends, going to the movies, the beach or out to dinner, just normal down to earth activities that stand in marked contrast to her on-screen persona.
Ms.Von James has appeared in over 100 features to date, and has no plans to ever retire, vowing to continue on for as long as her fans continue to clamber for new performances, while continuing to further her academic studies. As Nikita puts it, as she's being paid to do what she loves, she doesn't feel a need to do anything else. Check out some of Nikita Von James' hottest performances right here at Mr. Porn Geek!
MORE PORNSTARS YOUR MIGHT LIKE
BACK TO PORNSTARS