Monique'S PROFILE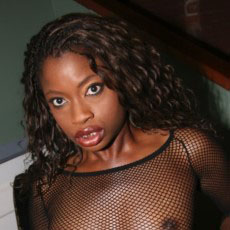 Monique
pornstar details
Date of Birth: Unknown
Ethnicity: Ebony
Height: 155cm
Eye Color: Brown
Hair Color: Black
Monique is an African American pornstar who was born in San Diego, California, and has had a long running and prolific career in adult entertainment. This sexy black woman stands at a petite 5 foot 2 inches, with all natural-measurements of 34B-24-34, and has never altered her appearance with tattoos or piercings.
According to Monique, she was something of a tomboy growing up, always active, hanging out with the boys, and getting into rough-and-tumble activities that most girls tend to avoid, like climbing trees and playing sports. She credits these early experiences, primarily hanging out with boys, with giving her such ease around men that has served her well in her adult life. During high school her athletics continued, participating in track and field, gymnastics, and getting on her schools cheer-leading squad.
After graduation, Monique visited a local strip club with friends, and seeing how the club operated piqued her interest. She returned to the club shortly after that first visit and got herself a job as a dancer, turned on by the notion of so many people desiring her while she was up on stage. It was exotic dancing but allowed this beautiful girl to sexually blossom, gaining confidence onstage, and having frank discussions about sexuality with her fellow dancers, one of whom provided her with her first lesbian experience, which she enjoyed it immensely.
Monique was in her mid-twenties, working as an erotic dancer, when she was discovered by British Adult Hall of Fame inductee, Taylor Wane. The pair hit it off, and after some discussion, she embarked on her path to pornstar fame, initially using the name Sugar as her stage name. She's also been credited as Monigirl in a few titles but for the bulk of her career she's gone by Monique.
While she initially appeared in adult films hoping to make some quick and easy cash to supplement her dancing income, once in, she found that she really enjoyed performing, and made it her primary career. Like so many women who go into porn, Monique initial limited herself to lesbian and solo masturbation scenes, but within a year she rolled out all of her talents at once, making her male-female debut in a scene that included anal sex.
Over the course of her 14 year career in adult film, Monique has appeared in over 350 titles, and even branched out into directing for 5 features. The quality of her performances resulted in seven AVN Award nominations, starting with a nomination for 'Best Anal Sex Scene' in 2001, followed by two nominations in 2002, nominated as 'Female Performer of the Year,' and getting a nod for 'Best Sex Scene in a Foreign Release.' Additional industry recognition received over the course of her career included nominations for another 'Female Performer of the Year' award, as well as for 'Best Anal Sex Scene,' 'Best Oral Sex Scene,' 'Best Threeway Sex Scene' and she received an Urban X award for 'Freakiest Girl in Porn' in 2008.
Monique is the kind of girl who loves what she does, but when she is not working, she leaves it all behind and relaxes. She likes to go shopping with her friends and she admits that there have been times when her paycheck was barely in her hands before she had spent it all on new clothes, shoes and accessories. Some of her favorite things are tall sexy boots that she wears along with sexy lingerie. She has a huge collection of these outfits that inspire her to even greater sexual heights when she's on the set. She became much more of a hardcore performer after her first couple of years in the business, and this is the freaky Monique that most porn fans have grown to love, and Mr. Porn Geek has a curated collection of Monique's wildest performances all right here for you to enjoy.
MORE PORNSTARS YOUR MIGHT LIKE
BACK TO PORNSTARS