Riley Mason'S PROFILE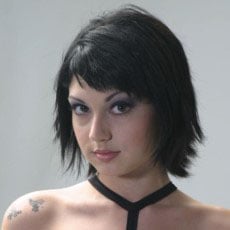 Riley Mason
pornstar details
Date of Birth: 15/07/1985
Ethnicity: White
Height: 165cm
Eye Color:
Hair Color: Brunette
Riley Mason is an American Pornstar, with almost-black, brunette hair, and hazel eyes. Standing at 5 foot five inches and weighing Just 100 pounds, Riley nonetheless has some beguiling measurements of 34C-26-30, all achieved without breast implants. As far as other'body modifications, she's had a number of body piercings installed, including piercings of her left nostril, septum, navel and tongue, with some tattoos as well, including a trio of bumblebees on her right shoulder, an intricate design over her left forearm, and a large tattoo on the back of her left calf. Ms. Mason has surprisingly few alternate names in her credits, including appearing as Riley, Rylie, Rylie Mason, and Scarlett.
Riley was born in Orlando, Florida, but grew up in Chapel Hill, North Carolina. In interviews, Riley has stated that she dreamed of becoming a pornstar while she was still in junior high school, and she and her best friend would fantasize about it together, the pair agreeing the it seemed like a fun and easy way to make a lot of money, right out of school, without requiring higher education. Riley didn't have a lot of friends in school, and she describes herself back than as being 'an oddball who preferred doing her own thing.' In the 10th grade, Riley dropped out of high school, though she later re-enrolled at another school, and worked a series of retail and food service jobs, before, at the age of 20, she decided to pursue that earlier dream of hers, and, along with that friend, contacted an adult talent agency.
Within a couple of weeks, Riley's name was chosen for her by her new agent, and was taking cock on camera, with none of the usual ramp up of solo and lesbian scenes before going to male-female pairings on-camera. Ms. Moore's timing on entering the adult entertainment business was impeccable, and her girl-next-door looks and alt girl appearance was a welcome change from the more prevalent breast-implanted blondes that were a staple of the porn business. Riley gained a following among the indie, alt, and hipster crowds, and her career quickly became white-hot, though as is practically a clich' with those groups, as soon as she started to gain widespread mainstream stardom, they turned on her, posting her real identity online and harassing her via her social media and instant messaging accounts.
While her career was at its height, Riley was nominated for a pair of AVN Awards, for 'Best New Starlet' and 'Best Tease Performance,' both in 2007. Unlike many pornstars, Riley maintained her residence at home in Greensboro, North Carolina, and made trip to the West Coast for filming, immediately returning home.
Riley was enrolled in college for a degree in Textile Design and Marketing, but her exposure to 'show business,' dampened her enthusiasm, and in interviews she's stated that she's now interested in becoming a stylist and a makeup artist, saying that if that worked out she'would like to launch her own line of cosmetics. Riley planned to keep doing porn 'as long as it was fun,' and asserted that she would never get breast implants or plastic surgery, though she did express a willingness to get Botox injections for her 'wrinkly forehead.'
Porn's alt 'it girl' for a couple of years, Riley's output took a precipitous drop in 2009, and rather than maintaining her early prolific pace, appeared in only a couple of movies a year of late, though her old work keeps getting re-released in compilations. Ms. Mason has been credited in over 90 films thus far, and here at Mr. Porn Geek, we have a selection of her best movies for you to view, instantly and on demand.
MORE PORNSTARS YOUR MIGHT LIKE
BACK TO PORNSTARS