Deja Daire'S PROFILE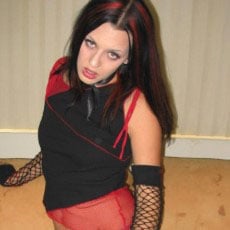 Deja Daire
pornstar details
Date of Birth: 26/01/1982
Ethnicity: White
Height: 173cm
Eye Color:
Hair Color: Black
Deja Daire is an American pornstar born and raised in Massachusetts. This brunette beauty has green eyes, stands at 5 feet 8 inches tall, and weighs only 118 pounds. Deja has slender measurements of 34A-28-34, and obviously she does not have breast implants. She does however have some tattoos, with three blue stars tattooed on each hip, as well as a pierced tongue and navel. Over the course of her career, Ms. Daire has been credited under several alternate names, for the most part variations in spelling of her primary alias, including Devon, Deja, Deja Dare, Deja Dalre, Deju Daire and Dela Daire.
Growing up, Daja was always a nonconformist, and as Deja recalls it, while her parents rarely fought, her father was often out of the house most of the time. Deja describes herself as something of a slut back in those days, and her relationship with her parents during high school can best be described as troubled. When she reached the age of majority, her original plan of attending college in Tucson, Arizona went by the wayside as she started dancing in men's clubs, finding the party girl lifestyle much more appealing than the notion of becoming a student. While her family was initially uncomfortable with her becoming a stripper and later, a pornstar, they've since come around, seeing how happy she is doing something that she loves. That she is making good money as an adult entertainer certainly helped pave the way to their acceptance of her chosen profession.
Deja's long-term boyfriend and she have something of an unspoken agreement, he knows what she does for a living, but she doesn't come home at night and recount all of the sex acts she performed that day, and he's perfectly happy not to know the graphic details, preferring the bliss of ignorance.
Early on in her career, Deja took on challenging roles, rather than slowly meting out her limits in little steps as is so popular with pornstars in this day and age. In her first year in the business, she was doing anal, double penetration and interracial scenes, which really captured the attention of her fans. She also did a number of films that could best be described as Goth Porn, securing a small but loyal fan following among followers of that niche, bringing her hard-charging sexual style to every performance, regardless of niche.
Ms. Daire is an equal opportunity performer, happy to have sex with girls, guys and people of other races on-camera, and loves to do double penetration and group sex scenes and has done a bunch of fetish films, rounding out her filmography.' ' ' '
Deja Daire dropped out of appearing in front of the cameras around 2008, but in a testament to the quality of her performances, her scenes continue to be re-released on compilations, even to this day, and she's appeared in over 170 titles to date. Her continuing reverence has earned her a whole new generation of fans, dying to see what their favorite all-natural Goth girl will get up to next. Mr. Porn Geek has a selection of this amazing performer's finest movies available for you to view instantly and on demand.'
MORE PORNSTARS YOUR MIGHT LIKE
BACK TO PORNSTARS