Eve Laurence'S PROFILE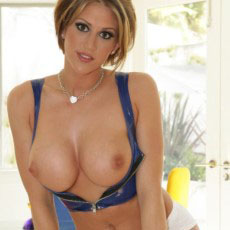 Eve Laurence
pornstar details
Date of Birth: 4/10/1985
Ethnicity: White
Height: 170cm
Eye Color: Brown
Hair Color: Brunette/Blond/Red
Eve Laurence, frequently also known as Eve Lawrence, is a busty pornstar and model who was born in Queen Anne, Maryland. Her start in porn movies began around the year 2004 when she was just about to turn twenty years old. She had begun modeling about a year earlier and had quickly come into the adult side due to the constant comments from people that she should pose nude. Her great big tits and pretty face are the main reason for that and she was only too happy to show off her great jugs first in print and then on video. Some of her first porn movies had titles like "Big Gorgeous Breasts" and "18 and Nasty" but for Eve they were all just another way to market her name and get herself a following. This happened much more quickly than she had even anticipated and she worked fast and hard for a couple of years before taking a break from the business.
In 2006 Ms. Laurence made a comeback and was sporting a new blonde look too. She appeared in many new films and even had her very first anal sex on film in the movie called "Ass Worship 9" which was directed by Jules Jordan. Her scene comes right at the end of the film and her partner is Jordan himself. Wearing a very sexy outfit, she gives him a fantastic tease before sucking his long dick down her throat. He licks her ass and then her pussy. While fucking her tight pussy, he fingers her ass and then pushes his hard dick inside of that lubed up hole. She moans and gyrates on his cock while he fucks her tight hole and he even manages to screw her big tits before cumming on her face. Ms. Laurence hadn't done any anal scenes before this and it was naturally a big hit.
Eve ran into some legal issues when she took exception to some website operators misspelling her name. Reportedly she was upset because she only makes an income when studios use her real name, which she even had trademarked. It's been reported that she felt people were misspelling her last name to avoid having to pay her, and she even supposedly started a legal fund where people could donate to help her cause. Miss Eve Laurence only works on webcam these days but has performed in more than 185 films during her off and on career. Mr. Porn Geek keeps a nice selection of her best scenes so be sure to look at them as soon as you get a chance.
MORE PORNSTARS YOUR MIGHT LIKE
BACK TO PORNSTARS