Pinky'S PROFILE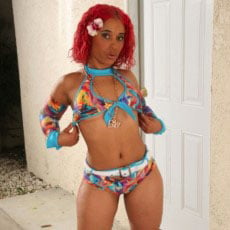 Pinky
pornstar details
Date of Birth: Unknown
Ethnicity: Ebony
Height: 150cm
Eye Color: Brown
Hair Color: Pink
Pinky is an African American porn performer who is well known for her big bubble butt and her bright pink hairstyle. She was born and raised in the West Oakland, California area and was always a really great student. In fact she earned a scholarship to a good school in Minnesota where she was encouraged to pursue her interests in music and dance. Her own budding sexuality had a big say in her future choices though and she decided not to attend college after all. After working as a receptionist for a while she decided to take up a night job as an exotic dancer because people always told her that she had the body for it. She was soon raking in some good money and her big bodacious booty was leading the way.
Reportedly, Pinky claimed that after going full time as a dancer for one of the clubs she was working, she found that most of the girls were having sex with clients as well. She had to decide if she was going to fuck for money right away and discussed the situation with her then-boyfriend. The couple had been filming themselves fucking on their own, and since money was very tight at the time they decided that they would produce amateur porn movies together. She would allegedly take copies of their fuck sessions to work with her and sell them to people out of the back of her car. It was nearly a year later before she hired an agent and began working for major porn producers in the area.
One of her first professionally produced porn movies was called "Art Angeles" and it was produced by Black Market Entertainment. Pinky went on to perform in hundreds of other scenes and has even sat in the directors chair on a couple of them. She has been the recipient of numerous Urban X Awards including Female Performer of the Year and Porn Star of The Year both in 2009. Known by fans from all over the world by her single one word name, Pinky is still very popular today and is still performing in porn movies. Mr. Porn Geek has got some of this black pornstar's very best film scenes and you won't be able to get enough of her award winning big booty either. Take a few minutes to browse them and then sit back and enjoy the hardcore action!
MORE PORNSTARS YOUR MIGHT LIKE
BACK TO PORNSTARS