Nina Hartley'S PROFILE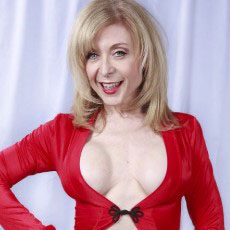 Nina Hartley
pornstar details
Date of Birth: 11/03/1959
Ethnicity: White
Height: 163cm
Eye Color: Blue
Hair Color: Blonde
When someone mentions the word porn, one of the first pornstars that will come to mind is Nina Hartley. She is an American woman originally from Berkeley, California who became involved in making adult films when she was about 25 years old. Prior to entering into the world of porn movies, she had been going to school to become a registered nurse. Her schooling came in the San Francisco area and she eventually graduated right near the top her her class. During that same time frame she had been working part time as an exotic dancer just to bring in some extra cash. As luck would have it, a career as a pornstar was more attractive to her than being a nurse so she began making a few movies to test out the waters.
One of the first films she appeared in was called "Educating Nina" and it became one of the biggest hits ever for a newcomer to the industry. In large part because of her fantastic and famous ass, Nina became one of the most well known starlets to both fans and adult film insiders alike. Studios very quickly cast her for as many movies as they could that same year and her career was basically in high gear right out of the gate. During the 1980's she worked with almost every major male performer of the time and many of the females too. Always adventurous, Nina would happily work in group sex scenes just as readily as one on one scenes. A lot of the films in those earlier days of her career were features that involved some acting and she was always happy to improvise whenever possible.
Nina Hartley remains in the adult industry to this day and performs in many MILF or mature themed porn movies. Her world famous ass has become known as possibly the first bubble butt in porn and even people new to porn have been known to say "Wow" the first time they see it in one of her classic scenes. Mr. Porn Geek has a great selection of Miss Hartley's very best porn scenes so make sure to see them all while you can. No matter which of her scenes you choose, you can't go wrong so just enjoy them all!
MORE PORNSTARS YOUR MIGHT LIKE
BACK TO PORNSTARS