Nicki Hunter'S PROFILE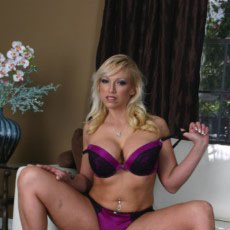 Nicki Hunter
pornstar details
Date of Birth: 19/12/1979
Ethnicity: White
Height: 168cm
Eye Color: Blue
Hair Color: Blonde
Nicki Hunter is a hardcore pornstar who was born and raised in Lake Worth, Florida. While she was a very good student academically, she does mention that her family was very strict and demanding. A lot of her time in school was spent just trying to make her parents happy and she even sang in the church choir when a lot of her friends would be enjoying the warm beach. By the time she was graduated from school and working on her own, she felt that she had a lot of lost time to make up in the sexual realm. She began dating almost promiscuously according to some reports and later started taking nude and hardcore pictures of herself and lovers and sending them into various websites. Naturally it did not take too long before porn producers and photographers were hoping to get some shots of her for their studios.
In 2003 and early 2004, Nicki made her first several porn movies and within her first six months or so, she had already made more films than many girls do in a whole year. One of those early scenes was in the movie "Double Decker Sandwich 3" from Zero Tolerance Entertainment. In this series, two girls take on one cock in a blowjob and cumshot scene. Nicki is paired with Victoria Givens in her scene and the dick they're sharing is supplied by Kurt Lockwood. The girls are both in bikini's outdoors and kissing each other when Kurt joins them. They turn their attentions to him and take turns sucking his dick very deep and then he fucks them each one after the other. Ms. Hunter sucks his dick after it comes out of her costars pussy and vice versa. The dual facial cumshot at the end wraps up the hot scene well and leaves fans wanting more of Nicky if nothing else.
Miss Hunter enjoys a following on her Twitter account that currently numbers more than 262,000. There are new tweets just about every single day and she tries to let people know what's happening in her professional life as well as around the house. The number of hardcore scenes in the Mr. Porn Geek archives continues to grow as more scenes of this sexy pornstar become available. Be sure to check in early and often so that you can see them all!
MORE PORNSTARS YOUR MIGHT LIKE
BACK TO PORNSTARS