Chelsea Zinn'S PROFILE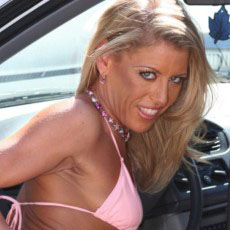 Chelsea Zinn
pornstar details
Date of Birth: 12/05/1971
Ethnicity: White
Height: 163cm
Eye Color: Blue
Hair Color: Blonde
Chelsea Zinn is a blonde haired, blue-eyed, American pornstar who was born in Haiku, Hawaii, on the island of Maui. Standing at 5 feet 4 inches and weighing about 121 pounds, she has all-natural body measurements of 36C-27-34. Chelsea is quite happy with her body as-is, and in addition to resting the typical urges to get breast implants, she's also eschewed other body modifications, having nothing pierced other than her ears, and no tattoos whatsoever. Over the course of her long career in adult entertainment, she's been credited with a number of variations on her chosen stage name, including Chelsey, Chelsea Zenn, Chelsea Zim, Sara, Chelsea Zin, Chelsea Zen, Chelsealuv, Chelsea Luv, Chelsea Lynn, and her one-outlier credit as Sarah.
Always being an adventurous girl, and more than a little bit of an exhibitionist, in 1996, answered an ad for models that promised pay of $100 an hour. That it was nude modeling was exciting to Chelsea, and from those first gigs, she branched out into doing private parties and dancing, moving to the big island and Honolulu to dances at the strip clubs there. Finding her career stalled by what she describes as her terrible dancing, Chelsea again turned to the classifieds and got a gig getting tickled, and in the process was exposed to the wild world of internet pornography.
Chelsea and her live-in boyfriend were soon having sex in front of a webcam for sites that charged customer by the minute, working it like a typical job, from 9AM to 5PM every day, the time differential with the rest of the United States and Europe working in their favor. They had been performing for a couple of years when that business model started to show its cracks, and she moved on to selling copies of their archived performances on their own websites. While she realized that she could have a career in porn movies, she was not keen on fucking people other than her boyfriend. Eventually, the financial realities of their situation made them make the move into film, and they never looked back.
As she had already been in thousands of hours of sex before the cameras, and was already something of a MILF by the time she made her first feature in 2002, already in her thirties, Chelsea went for the gusto, doing interracial anal sex in one of her first productions. Already a seasoned old hand at having sex on-camera before she stepped on her first porn set, Chelsea already knew what she was doing, preferring to work with directors who had a light touch, just giving her some guidance on what points to hit, and letting her improvise the rest.
While she has a reputation for appearing as a domineering MILF, in reality Chelsea likes a domineering man to take charge of the situation, having her man treat her like a sex object. She has stated in interviews that she's refused roles where she was cast opposite what she saw as 'weak' men, though she refused to elaborate or name names.
It's hard to imagine a dirtier girl than Ms. Zinn who pioneered the art of ass to mouth cocksucking, double-anal threeways and a number of other fetishes that have expanded the vocabulary of many kinksters who still consider her one of the true 'stunt cunts' of porn history. Always willing to say yes, to try new sexual positions or take on alternative views to satisfy her fan's insatiable desire to see something new and inventive ' Chelsea Zinn isn't just another whore, she is the kind of girl who keeps your brain pulsing with fresh ideas from the time you cum until the next moment you are lucky enough to be with her again.
Chelsea Zinn has appeared in over 190 titles to date, and while her output has slowed of late, she's still out there doing the occasional new movie. Fortunately for you, We have some of her hottest movies available instantly on-demand, right here at Mr. Porn Geek, so you can check out this hot, no-limits MILF any time you'd like!
MORE PORNSTARS YOUR MIGHT LIKE
BACK TO PORNSTARS