Kinzie Kenner'S PROFILE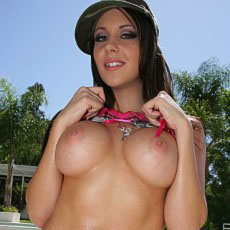 Kinzie Kenner
pornstar details
Date of Birth: 22/07/1984
Ethnicity: White
Height: 165cm
Eye Color: Brown
Hair Color: Brunette
Kinzie Kenner is a brunette porn star from California who started making porn in 2003. At that time, she was mostly a lesbian since she was a feminist and found guys unattractive, and wanted to overthrow the patriarchy. Besides, she found the soft curves and delicate touch of a woman much more alluring and sexy than a rough guy. After a friend brought her to watch a porn shoot, she saw how fun it could be to fuck on film, so she started to shoot some saucy photographs. Not long after stepping onto the still camera set, Kinzie made the jump to moving pictures. For the whole first year the little lesbian only munched on carpets and got fucked with sensual strap-on dildos before she felt comfortable allowing a cock to penetrate her consistently wet pussy.
Kinzie was pretty shy when she was growing up, partially due to her conservative family environment, but she found an expressive outlet in dance, which she studied until she got good enough to teach dance classes. These experiences helped her build her confidence and self-esteem. However, her shyness did translate into her pornography work. When she started fucking guys, it took her a little while for her to feel comfortable enough to have an orgasm on camera, because her shy nature was taking over. However, after a bit of time, she got up the experience and courage, and expanded her sexual world! Now you can see her cumming in over 150 porn videos, and she even directed two sexy pornos.
The first movie she directed, called Kinzie Kenner's Playhouse: Erotic Retreat, featured her and 5 other lesbians such as Tricia Oaks and Riley Jensen either masturbating for their fans or caressing and intimately making out with each other in girl on girl scenes in an amazing, luxurious location. Some of them were outdoor sex scenes by the pool, while others were inside a lush and luxuriously decorated house. The other is called Kinzie Kenner's Playhouse: Pure Seduction, and stars Kinzie and four of her other porn star friends like Dahlia Skye in similar lesbian and solo masturbation scenarios. It's clear from these films that Kinzie had an eye for all things girly and erotic.
Kinzie's fame led her to be chosen by the rapper, Necro, for a spot in his 2008 music video entitled 'Who's Your Daddy.' Even though it seems like Kinzie has stopped making movies for now, her pussy and sexual talent will live on through the internet and her devoted fans who have made many fan pages on social networking sites like Facebook.
MORE PORNSTARS YOUR MIGHT LIKE
BACK TO PORNSTARS