Mia Bangg'S PROFILE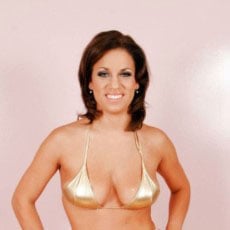 Mia Bangg
pornstar details
Date of Birth: 11/04/1985
Ethnicity: White
Height: 170cm
Eye Color:
Hair Color: Brunette
Mia Bangg is a sexy white American who was born and raised in San Diego, California and is of Spanish descent. Blessed with a piercing set of blue eyes, she has appeared with a veritable rainbow of hero colors including blonde, brunette and redheaded. Standing at 5 feet 7 inches, and weighing in at about 138 pounds with 36D-28-36 measurements, she is naturally busty and curvaceous. Mia has several tattoos on her body, including behind her right ear, above the left side at her pelvic bone, and on the left side of her lower back, though other than her ears, she has no piercings to speak of.
Ms. Bangg has performed using several different stage names, including Mia Banggs, Mia Bang, Ria Bilos and Mina. Growing up, Mia studied several styles of dance, including ballet, jazz, hip-hop, and lyrical dance, the athleticism and coordination she developed put to good use later in life. As Mis recollects it, she was quite reserved during her high school years, hanging out with other dancers, cheerleaders, jocks, and other clean-cut athletic types for her circle of friends.
Mia made her first adult film in 2004 when she was around 19 years old, and within her first year she was doing interracial anal and double penetration videos. While many women in porn strategically withhold doing anal or having sex with black men on camera, for Mia, it's just doing what she like best, as she revealed in an interview, she is strongly attracted to black men and loves anal sex more than anything else. Her other turn-ons include soft touching, being choked, kissing on the neck and having her feet licked. As far as what she looks for in a man, she also stated that she likes a man who will make her laugh, is tall, can hold his own in a conversation, is good with the parents and one who can satisfy her sexually. For her favorite sexual position, she really loves being fucked from behind while she's on her hands and knees.
When she isn't getting ass fucked on camera, Mia says she's an avid reader, and enjoys dancing, cooking, and strangely enough, cleaning. She's appeared in over 260 titles to date, and received several nominations for her performances, including a nomination for a F.A.M.E. Award for 'Favorite Anal Starlet' in 2006. Also in 2006, Mia branched out to open her own adult agency, EXXXtreme Modeling, focusing on bringing new girls into the business, and offering some innovative policies to induce producers to utilize their models, but ultimately the venture failed to capture enough business and it was folded.
Mia continued to make new films through 2011, when she retired from the business, though her fans would certainly welcome her return. Mr. Porn Geek carefully collected Mia Bangg's hottest scenes and put them here for you to view instantly, so whenever you need to get your Mia Bangg fix, you know just where to find it, Mr. Porn Geek!
MORE PORNSTARS YOUR MIGHT LIKE
BACK TO PORNSTARS