Ricki White'S PROFILE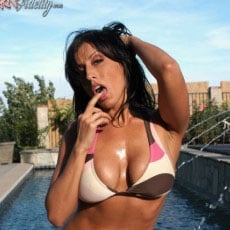 Ricki White
pornstar details
Date of Birth: 12/11/1986
Ethnicity: White
Height: 163cm
Eye Color:
Hair Color:
Native American pornstar Ricki White was born in the Rialto, California area. She is partly Irish and Sicilian too and has dark brown hair and brown eyes. Her right upper lip is pierced in Monroe style but that is the extent of her body art. Her body measures 34D-25-38 but her earliest works show her natural B cup bust size. The breast augmentation she had done was in December 2007, so movies that were released after that should show her large sized tits. With a height of 5 feet 4 inches she is fairly average sized for a pornstar and she weighs about 128 pounds. Reportedly she was an honor roll student who was destined for some kind of brainy work except for the fact that she loves to fuck!
Miss White began working in porn movies in the year 2006 when she was approximately 20 years old. According to a published interview with her, she was a virgin until she was nineteen years old and then in her own words she went crazy having sex all the time. It was no problem doing it while cameras were rolling either at that point, so she figured why not do it and make some income too? In her personal life she also loves to have sex with girls and considers herself to be bisexual. She relates tales of having sex in public and fucking on a ride at an amusement park too.
While working in porn movies she reached the year 2011 before deciding to give it a rest and call it quits. At that point she had done about 200 films and fucked every major name in the business. That includes males and females! Fans love her big ass and especially her interracial, lesbian and hardcore group fuck scenes. Mr. Porn Geek is a fan too and always keeps a nice selection of her scenes ready for instant viewing.
MORE PORNSTARS YOUR MIGHT LIKE
BACK TO PORNSTARS