Luscious Lopez'S PROFILE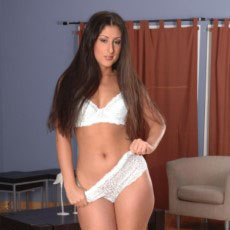 Luscious Lopez
pornstar details
Date of Birth: 11/09/1981
Ethnicity: Latina
Height: 165cm
Eye Color:
Hair Color: Brunette
Hailing from the great city of Santa Cruz, California, Luscious Lopez began working in porn movies when she was in between jobs and never looked back. A Mexican American girl, she stands 5 feet 5 inches tall and has dark brown hair. There are no tattoos or piercings anywhere on her body which measures 36B-24-38. At various times in her early career she was called Ana, Anita, Dasha and Fabiola before settling on Luscious. Prior to her adult career she worked as a teacher and also within the healthcare industry. As a student of art she trained diligently for 6 years as a painter and in various other mediums. In fact she was often a nude model for these classes and became quite comfortable being naked in front of others.
Her first foray into adult films came in 2005 when she was still in her early twenties. Working at only a slow pace in the beginning was her way of making sure that this is what she wanted to do and it became apparent that it was. Porn fans are happy that she stuck with it because she puts on some of the most intense hardcore fuck scenes ever. Known for her intense on screen orgasms, Ms. Lopez is also a very accomplished oral sex performer and enjoys getting fucked in the ass too. Double penetrations are no big deal for her and she licks her share of lesbian pussy too.
Her string of porn movies numbers more than 315 at this point and she is known to have been active as recently as 2014. As a great Latina pornstar her fans are always happy to see her sexy ass and pretty face in new movies, but are also content to see her past scenes over again too. Mr. Porn Geek has a great variety of her scenes for easy downloading and streaming right now!
MORE PORNSTARS YOUR MIGHT LIKE
BACK TO PORNSTARS