VPorn.com Longer Review & Analysis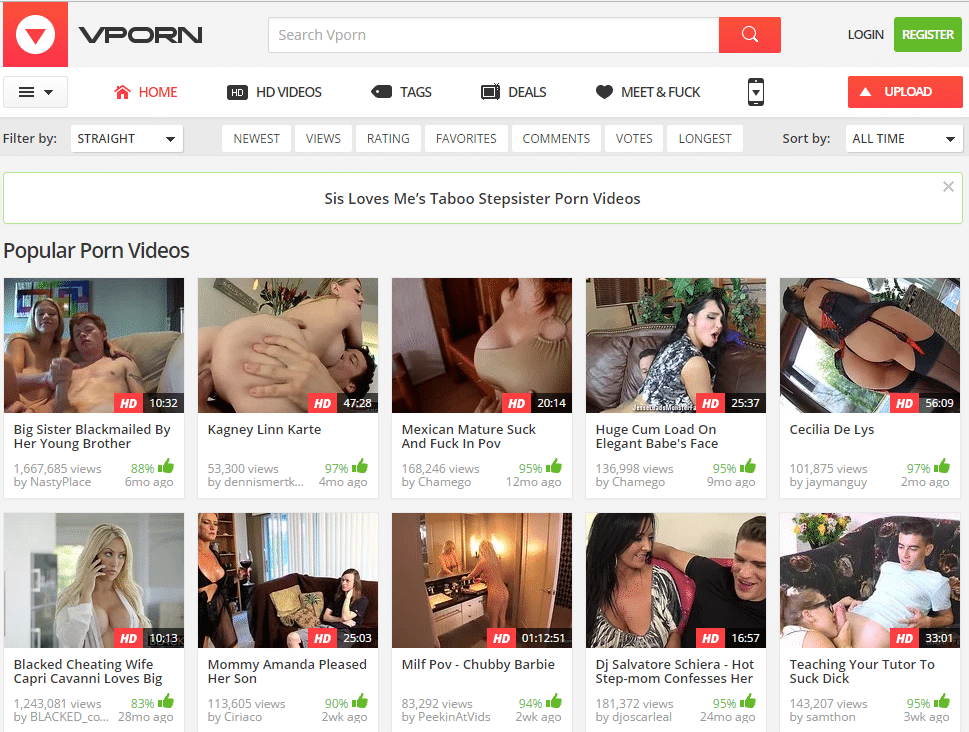 Okay, so I'll start off by saying that if you just want to jump on over to the site and don't care about reading my review, you can do that by clicking on the link and landing directly on the homepage of VPorn.com. Now I've already written about VPorn.com on the homepage, but I did want to sample some longer reviews in order to see how they felt when writing and the general response from the great readers here at Mr. Porn Geek. So without further ado, let's talk about VPorn!
This is pretty much your standard tube site in its theme, with lots of videos from a range of niches added so that you can check them out and enjoy all of the material they've got completely free of charge. Now while it's standard in the focus of its project, the site itself is honestly one of the best I've come across in terms of design and related concepts. For instance, the homepage shows you a list of the popular videos and scenes most recently uploaded, with a fresh one being deposited on the site at least twice an hour. You can easily filter between straight, gay and transsexual content too using the dropdown in the header, with additional links to videos ranked based on their views, ratings, number of comments and length with a further enhancement to group those based on range of upload, such as in the last week or last month. Great features across the board when it comes to sorting the videos as soon as you hit the page – that's a major selling point!
Now when you actually find a video you're interested in, click on it to be taken through to the streaming area. You'll have a YouTube-inspired dispaly for the material with the option to change the quality from the ranges provided, all the way up to 1080p HD. Yup, that's right folks – VPorn.com offers free HD videos! It even allows you to download the clip directly to your computer if you'd prefer local storage instead of streaming. The servers are incredibly quick and you never have buffering issues, plus you can skip to any segment of the video that you'd like and it instantly reacts.
As for the content archive size, VPorn.com offers over 200,000 scenes in the straight niche alone, with a decent number for those looking for gay and shemale content too. The 'tags' area is managed real well with alphabetical listings of the most popular ones, including stuff like amateur, Asian, blowjob, big boobs, MILF and more. At the bottom of the page they also have country tags, so you can see material from specific countries, including Argentina, Australia, Poland, Korea and even Sudan – suffice to say that when niche material is concerned, VPorn has you covered.
With such a neat interface, great design and layout of their material, VPorn.com stands up as one of the best non-major tube sites out there at the moment. I think that if Pornhub replaced their interface with this one, it'd be even more popular than it is now. So yeah – serious props to the team over there, because accessing porn videos on a tube has practically been made as perfect as possible thanks to VPorn.com. It's not every day that I consider a porn site to be the best of the best in its niche, but I'm not afraid to give that title to this destination.
Want to see what it's all about and never visit another tube site again?
Then click to visit VPorn today.
Posted By Mr. Porn Geek on February 14, 2017
Advertisement