Elizabeth Starr's Rack – Are These the Craziest Tits in Porn?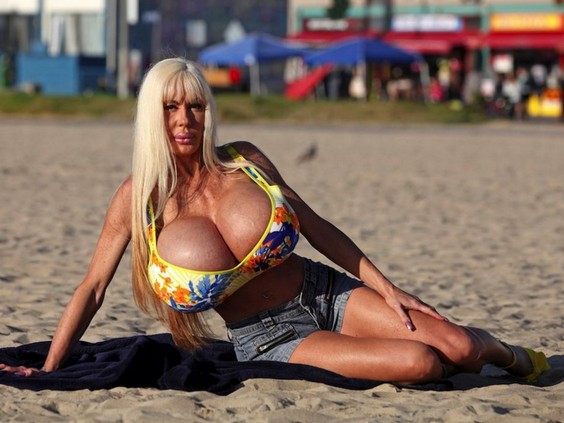 If you're not entirely sure who Elizabeth Starr is, we'll have to forgive you. She's a semi-famous MILF that came into the fucking game pretty late in life. At 47 years of age, she's pretty much at that ripe point for plastic surgery to take over and the true mature bimbo form to reign supreme. When we talk about Elizabeth Starr, what we're talking about are plump fake lips, huge implants, tiny outfits and of course, some of the best sexual skills in the game.
Busty Liz does have an Instagram account, but with one post, it's not exactly the most happening place in the world. Thankfully, Mr. Porn Geek doesn't need Instagram to get his hands on some good tit pictures of this crazy lady. So without further ado, let's get down to business. Take a look at this crazy rack!
Now if you think these tits aren't crazy, just wait until you hear about the fact that Elizabeth had a staph infection caused by their huge size which eventually led to, yup – leakage! These fake tits got so big that they exploded. Elizabeth's story became known the world over after she appeared on E! Entertainment's TV show Botched. Here's the clip for you to hear it straight from the sexy MILF's silicon-clad mouth.
Whatever the future holds for Elizabeth, we just hope that those titties still get to appear in some more adult productions. Hot damn is this bimbo just the definition of perfection!
Posted By Mr. Porn Geek on August 3, 2017