A Look At Australia's Biggest Online Sex Shop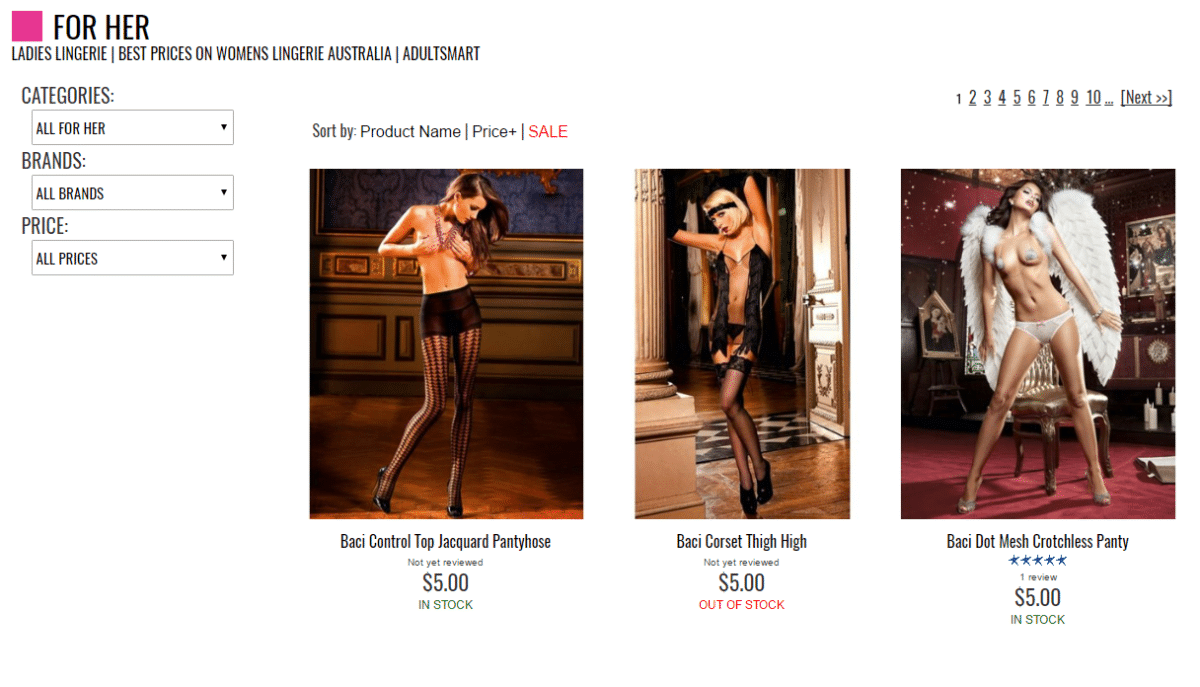 Adult Smart or as some people may prefer to call it Adults Mart, is an online store devoted to giving people worldwide access to a huge range of sex toys, outfits, equipment and more that is used for making sex better. Note that while they ship around worldwide, Adult Smart is established in Australia, so if you live down under, this is certainly the place to be! They also provide discrete shipping so no one will know what you have ordered!
What I like most about Adult Smart is the fact that you get hundreds of quality options to pick from across a whole range of incredible products. Hell, the sex toys has over a dozen sub-categories attached to it. It includes listings of rabbit vibrators, surgical steel sex toys, g-spot vibrators, strap-ons, dildos, men's masturbators, cock rings and more. I did a quick tally of the listings here and believe it or not, Adult Smart contains 6,000 sex toys to pick from – we haven't even covered the other stuff yet! If you include everything else they sell well over 13,000 adult lifestyle products.
Alongside all of the naughty pleasure-based devices, you've also got a section devoted to lingerie, sexy costumes, bondage gear, fetish, lubricants, cleaners, games, novelties and adult movie DVDs. If you're not too sure what you buy, you might want to venture over to the sex toy sales page, where all of the specials are listed. It's generally the case that almost everything listed here is half-price, although some attract even greater savings than that.
If you're based in Australia, Adult Smart typically gets stuff delivered to you within 48 hours – I tried the service myself and after making an order at 10:00 a.m., I received my shipment the next day at around 4 p.m. – if you're in a rush for adult merchandise, look no further than right here.
Adult lifestyle products can be paired with adult movies for some of the most sensationally feeling orgasms in the world. Let's face it, technology is amazing and it helps us fulfill our sexual desires too. In a world where most of the time we touch our mobiles, laptop and computers it is only naturally for technology to help us feel pleasured. In this article, I will introduce you to some of the more interesting technologically advanced sex toys available.
KIIRO  is sex toy designed to please a man and a woman at the same time who are both in completely different locations from each other. KIIRO is a touch sensitive vibrator designed specifically for the woman. It measures how she uses the sex toy by providing the depth and speed. The data is automatically sent to the men's masturbator which will modify its vibrations according to the data sent. Sex toys are connecting people worldwide.
Fleshlight Launchpad is an extremely affordable accessory for fleshlight sleeves. The Launchpad acts as an iPad screen holder with a fleshlight attachment below. You move the Launchpad to masturbate with which provides a great physical experience when masturbating. This is especially fun if you are watching webcam streaming live.
The Svakom Slime Camera Vibrator is a straight vibrator that has a camera attachment controlled by a mobile application, it has been dubbed worldwide as the "GoPro of sex toy". It has a camera on the tip which allows you to see what it is like for a woman masturbate from the inside is! This sex toy brings medical play to a whole new level. The company says that is was designed for women's healthcare.
The Hot Octopuss PULSE is a male sex toy used for hands-free masturbation. A man can insert his flaccid or erect penis into the PULSE and experience the pleasurable oscillating plates that can be used with or without lubricant. There is also a couple's version of this sex toy so a woman can also enjoy the vibrators on her clitoris.
The Autoblow 2 which is a fleshlight sex toy machine that works hand free. It is the male version of a sex toy machine. It uses vibrating beads to provide an erotic massage to your pleasure seeking genitals. Like most fleshlights, this one is has a washable sleeve to!
The next sex toy to make this list is the Virtual Reality Tenga. Virtual Reality is an amazing invention especially when it can be paired with point of view adult movies. You will get to experience close up as if you are one of the people engaging in the sex scene. They are easy to use with a pair of VR goggles. Your mind will struggle to tell the difference between what a real experience is and what is not!
Anyway, that's all I wanted to really write about: I had a great experience with these guys and figured it was worth chucking up a post about it. I'm sure that for the Aussies that do read my blog, this will be a useful review that tells you Adult Smart is 100% legit and delivers on its promises. Until next time folks: stay safe and of course, buy sex toys!
Posted By Mr. Porn Geek on March 16, 2017
Advertisement