Why should I trust Mr. Porn Geek on Asian girls?
Ask anyone who's poked around my review platform for long enough what my favorite type of girl is: they'll all tell you that Asian babes are my go-to whenever I want to have lots of hot, erotic sex. Hell, my current partner is Asian and the 5 before her were also of an Oriental persuasion. Your boy Mr. Porn Geek is a bit of an expert when it comes to Eastern delights: trust me when I say that I know what's what when it comes to dating these lovely slices of pure heaven. Now you're probably wondering: "how on Earth do I find Asian girls to date?" – the good news for you is that I'm going to tell you exactly what you need to do.
To start off with, let me just state for the record that I since I'm in a relationship, I can't exactly 'test' these dating platforms as much as I'd like to. I still do make a conscious effort to reach out to girls and gauge whether they're genuine or not, though – that's part of the territory because it's important that everyone knows if they're getting the real deal. We can't be sitting around looking to punish some tight Asian pussy if the girls aren't there to talk to now, can we?
Are these dating sites actually good, though?
Of course they are, silly. Look all over Mr. Porn Geek – has your boy ever suggested a place that's less than perfect? My reputation is on the line here, and that's something I value a lot more than recommending a sub-standard destination. I highly recommend you actually read my reviews though: get the details you need in order to make informed decisions and start dating Asian babes left right and center! It's that easy and man, you're going to have such a great time when you either hook up in a real relationship or just have no strings attached fun with these tight pieces of delicious ass. Asian girls are certified perfection and you're going to realize sooner rather than later that this is the case.
Okay, but what about Asian girls makes them great, Mr. Porn Geek?
As someone who's dated an Asian girl for a long period of time – and slept with many of them – there are multiple aspects that you've got to consider. Firstly, they're absolutely physically dynamite: they're slender, have great skin and age real fine too. Compared to white women, you're setting yourself up for success if you decide that you want to engage in relations with a gorgeous Eastern goddess. Obesity is a major issue in the Western world right now and let's face it: ladies from America, Canada and the United Kingdom have let themselves go. How often do you see a fat Asian girl? They're rarer than A Mirror of Kalandra and because of this, you know you're setting yourself up for peak perfection when you look for Asian women.
Culturally, they're a lot of fun too – Asian girls are typically a little more submissive and because of this, they're willing to go with the flow a lot more than other chicks might. Lots of the Asian women I ended up sleeping with had never tried anal until Mr. Porn Geek came along, whipped out the coconut oil and gave them the ol' 'ass massage' treatment that soon slipped into something more penetrative. Some Oriental cuties also have nice fat asses – it's a bit touch and go, but in a doggy style position you're going to be having a lot of fun, that's for sure.
Okay, so I'm convinced: now what should I do?
Oh, you suddenly want to know all about my recommendations for the best Asian dating websites around, eh? Well the good news for you is that when it comes to finding hot Asian girls to take out, I'm going to help you and then some! Let's start off by looking at the simple facts: there are dozens of sites out there tailored toward meeting Asian ladies, but many of them suck. This is where I come in, since I've done the research so you don't have to. That's right – instead of having to try out a few different places to get the right vibe of the one you want to stick to, just listen to Mr. Porn Geek's recommendations and you'll be well on your way to no strings fun at the click of a button!
How do you compare these Asian dating sites against one another?
There are a number of factors that one has to consider when looking at Asian dating sites, but the primary one for me is the ability for you to communicate with people. I'm looking for fast websites, great designs and instant messaging features that get you in touch with the girls you want to talk to in no time at all. It's a pretty simple concept but honestly, you'd be amazed at how many are bad at doing this type of thing!
Next up, you've got to have a decent community: one or two women online at one time from different parts of the world isn't going to cut the mustard. There are network effects involved with dating platforms, so naturally, the bigger the better! That said, I also have to consider freshness: Adult Friend Finder probably has a billion accounts or something, but most of them won't have been touched in years.
Thanks so much Mr. Porn Geek, you are awesome!
I know, but honestly: I do it because I care about this type of thing. I love online dating and I think more people should get into it – especially since it's so damn easy now. Stuff like Facebook means that people are more than willing to share elements of their life with anyone that wants to know: we've transitioned into a period where ladies are more than happy to join dating sites and since Asian girls are really ahead when it comes to technology and stuff, this is an ideal situation for you to be in if you like Oriental broads.
Thanks for taking the time to check out my list of the best adult dating sites for finding single Asian girls – be sure to bookmark this page so you can come back again in future to read my reviews!
READ MORE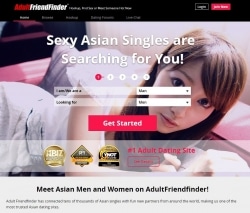 AFF AsianSexDating
You want Asian Dating and you want them now: don't worry, I've got you covered with the latest scoop on this great dating platform! These Asian girls just love meeting new guys for no strings attached sex.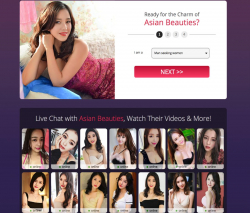 Asian Beauty
Mr. Porn Geek is confident that anyone looking for a Japanese, Korean or Chinese partner will absolutely love what Meet Asian Beauty has to offer. Free to join and look around – check it out now.