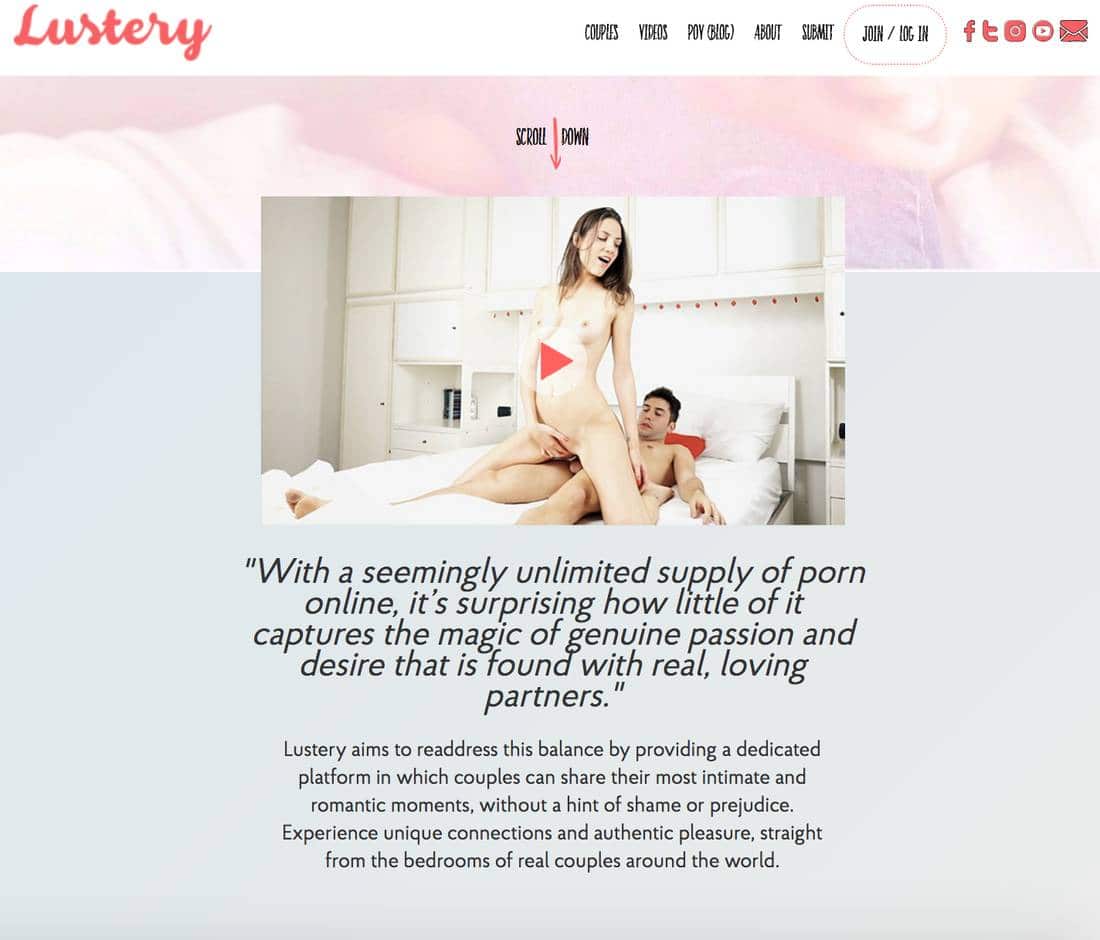 Click Here To Visit (Lustery)
Lustery
lustery.com
---
Homemade porn for the average consumer
Are you sick and tired of porn videos not appealing to you? Do you wish there was a good place to find genuine amateur action, but wasn't delivered in a short, low-quality format? Luckily for you, Mr. Porn Geek has the ultimate solution! It goes by the name Lustery and by all accounts, it's a homemade porn paradise that seeks to showcase the sex lives of average people who engage in real intimacy with their partners for everyone to see. An interesting idea and I'm about to sign into the member's area to tell you more – continue reading below and I'll give you a full overview of Lustery and what it's got to offer!
The subscriber experience
The first thing I did after signing into Lustery was head on over to the videos section – I was pleased to see that this site is focused on a range of different couples from all over the world that don't just stick to one type of sex. For instance, the latest upload was a lesbian shoot between two sexy plus-size babes, whereas the one before that starred a sexy punk-rock chick getting railed outside by a flowing river. There's even a category dropdown which allows you to pick from: home sex, outdoors, kink and quickie videos. You can then further sort scenes based on upload date, number of views and popularity.
Lustery's videos are recorded by the couples themselves and can be streamed in a variety of different resolutions, ranging from 160p all the way up to 1080p. It does appear that streaming is the only option available here – I found no ability to download content directly to my PC, which I'd like to see offered in future! There are lots of tags for each upload including the likes of tattoos, spanking, foot fetish and fisting.
A little extra depth
One interesting concept that Lustery utilizes is to explore the relationships between the couples with a little biography and further detailed information about how they engage with one another sexually. Some couples had such a good time on the first occasion they shot porn for Lustery that they then went ahead to record more content that was uploaded to the site. Videos often kick off with a chat to the camera before they get down to business and this is a great little extra that makes the sex feel that much more amateur. You also get some images from the pairings that are the type of thing you'd expect to see on Facebook or Instagram – very homey and candid.
Other extras at Lustery include a blog devoted to teaching you about anal sex, the right way to do spanking and some pointers on upping your nude selfie game. I was actually quite impressed with the writing style and content offered here at Lustery – the person behind the keyboard really knows how to publish some useful information! Oh and this should really go without saying: if you're looking to appear in a porn video yourself, you can get in touch with Lustery and read their submission guide on how to get yourself involved with the content side of things.
My final Lustery thoughts
In a world dominated by porn that isn't of the amateur variety, I think it goes without saying that destinations such as this are a big plus for people that are disillusioned with standard adult entertainment. There's a raw and erotic vibe about Lustery that's hard to get away from: it's nice to see people who actually love one another fucking – especially since it's available in full 1080p HD! I can't think of too many things to complain about here, so I'm just going to go ahead right now and recommend that you at least check out the tour if you're on the hunt for genuine amateur porn. I think that's the best way to think about Lustery: it's the real deal and about as homemade as smut can get! Go visit Lustery now and satisfy your desire to see real couples having real sex.
Review Pros
Updates regularly
Great amateur content
1080p HD videos
Review Cons
No downloads available
No bonus sites
Tap Here to Visit Website
Premium Amateur Porn Similar To Lustery