Get This Discount Deal
30 Day Pass Only $9.95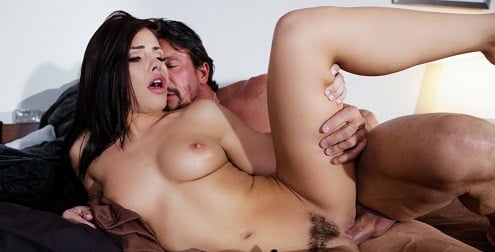 Sweet Sinner Features
Free bonus sites
HD videos
World-class pornstars
Multiple weekly updates
Lengthy sensual porn scenes
Coupon discount deal
Sweet Sinner is a Mile High Media website that has produced adult scenes with some of the hottest pornstars around. We're talking Megan Rain, Alexis Fawx, Lily Carter and a bunch of other top quality fuckers that know their way around a hot cock. Sweet Sinner is all about erotic and sensual entertainment that has a devious twist involved. Taboo action is commonplace here, as is threesomes, anal and the like. Sign up today and you'll even get a great selection of bonus sites to enjoy - completely free of charge. If that's not a deal worth taking up, I don't know what is!
Sweet Sinner Discount
- Full Detailed Review by Mr. Porn Geek
About Sweet Sinner

The website Sweet Sinner is true to its name, providing a lot of reality porn movies that feature sinful sex, so if you can think of something that fits in that category, it's probably here. Some of the films feature inappropriate power exchange scenes, including a teacher seducing their student, or vice versa. You can also see porn scenes about men cheating on wives, as both a hotwife or as a cuckold, and otherwise. There is also some fantastic boss/employee role-play, and many other situations. Pretty much everything in the sinful sex category is covered, except for family role-play porn movies. This is covered in so many other places, however, so no big deal there.

Another significant focus the Sweet Sinner has is that they have a considerable aim in creating believable stories, with believable characters, creating a sense of realism. Some of the acting can be a bit shoddy at times, but the direction of the porn films is fantastic. I don't know about you, but when I watch role-play, I like to think that the situation that is being acted out is actually happening. If I am watching taboo porn movies and role-play, the fact that it is considered wrong in some ways is part of what turns me on. That's where the sinful part of this site comes in.

If I had a short list of websites that I would want to spend the vast majority of my time at if I did not have to attend classes and work, Sweet Sinner would be on my short list. I just can't get enough of the high-quality adult content that is here. This site has a high percentage of incredibly well shot and believable porn films, and I love it. Since the site put out DVDs before it became a website, they know a thing or two about making quality porn.

One of the most notable elements of getting a membership to Sweet Sinner is that it is part of a fantastic network, Mile High Media, which has won tons of awards and is known for putting out high-quality smut across the board. You get, in addition to the fantastic rate for Sweet Sinner that Mr. Porn Geek provides, seven other bonus websites.

These websites include Doghouse Digital, Reality Junkies, Lesbian Older Younger, Cherry Pop, and Mile High Media. These bonus websites bring you hundreds of additional porn movies that will not only make your dick hard but have it dripping. Having access to so many different porn genres, all in high quality, is a sweet deal.

Again, there's tons of quality here, high production value, a wide range of porn niches, and a lot of fun taboo porn scenes to watch. This makes membership to Sweet Sinner one of the best porn deals in the adult entertainment industry. Getting great porn deals makes it even better, and Mr. Porn Geek has a fantastic deal right here for you.

Content Amount

Sweet Sinner has over 900 videos across the network. With a few different uploads each week, the site is growing more and more, like your member will be when you join. On occasion, when the site uploads some of their longer porn movies, you might only see one or two updates that week, but the site is still growing quickly, bringing you more of the best artistic porn movies to watch. Find the best porn movies out there, and hundreds of hours of porn content, for one low price. Get the lowest price for porn site Sweet Sinner by using the Mr. Porn Geek coupon here. Also, there are even more porn photo pic sets than there are movies on the site, with some of the movie sets having multiple porn image sets to go along with them. This is a lot of content, providing an excellent value.

Video Quality

As one of the newer porn websites out there, Sweet Sinner not only provides the sexiest porn babes in fantastic role-play and hot sex scenes, they also have a very few SD porn movies in their collection. Most of the videos here are high-quality HD porn scenes, which average around 25 minutes in length. With the vast majority of porn on the Sweet Sinners site being 1080p high definition, you are getting the best quality porn films possible. There are even a number of the best 4K HD porn movies here as well. The videos are available for download and streaming, and there are no download limits so you can cram as much porn as fits on your hard drive in.

Exclusivity

All of these fan-favorite porn movies are 100% exclusive to Sweet Sinner. You will not be able to find these anywhere else, so getting a membership, especially at the incredible rate that Mr. Porn Geek provides, is quite a deal. Not only will you have access to these movies, however, you will also get a ton of other top exclusive porn content from the Mile High Media Network. It's a great deal and one that should be taken advantage of.

What You'll Get

With a coupon from Mr. Porn Geek, you will get 30 days membership for $9.95. This gives you a lot of time to check out the Sweet Sinner website and see how well it matches with your fantasies and desires. This is a lot better than trying the site out for two days at a rate of one dollar. Two days is nowhere near enough time to figure out what all is in the network and how much you can satisfy your horny inner cravings.

Fine Print

When your membership renews, it will be at a rate of $29.95 per month. If you cancel your membership, even the day or two before renewal , you will not be charged, but I am pretty confident that the high quality of porn on the site will keep you there for many months, if not more. You should also keep in mind that getting a membership for multiple months, after the trial period, can get you incredible rates as well.

Downsides

Sweet Sinner is one site in a fantastic adult film network. While they are not the biggest out there, they have some of the best porn films and best porn talent in the world. Taking some time to head over there from Mr. Porn Geek, you can see the incredible quality and high production value this company puts into their work. Signing up is easy to do; all you need is to click on the coupon button here. This deal will not last forever, so be sure to take advantage.

Conclusion

Sweet Sinner is a fantastic porn network. They aren't the largest out there, but they certainly pump out some of the best videos. If you want to see how much quality you are able to enjoy, you can sign up using clicking the coupons code button below. You will regret if you don't. This brilliant offer is not going to last forever!
CLICK HERE TO REDEEM THIS COUPON
CLICK HERE TO REDEEM
More Porn Deals & Coupons
Show Me More Porn Deals