Get This Discount Deal
30 Day Pass Only $9.95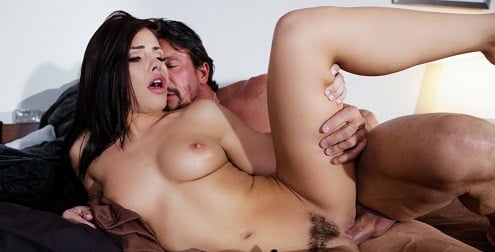 Sweet Sinner Features
Free bonus sites
HD videos
World-class pornstars
Multiple weekly updates
Lengthy sensual porn scenes
Coupon discount deal
Sweet Sinner is a Mile High Media website that has produced adult scenes with some of the hottest pornstars around. We're talking Megan Rain, Alexis Fawx, Lily Carter and a bunch of other top quality fuckers that know their way around a hot cock. Sweet Sinner is all about erotic and sensual entertainment that has a devious twist involved. Taboo action is commonplace here, as is threesomes, anal and the like. Sign up today and you'll even get a great selection of bonus sites to enjoy - completely free of charge. If that's not a deal worth taking up, I don't know what is!
Sweet Sinner Discount
- Full Detailed Review by Mr. Porn Geek
About Sweet Sinner

Sometimes you want sex so fucking badly, but you know that it is wrong. You know that the person you are with wants it too, but they also know that it is wrong. That is what Sweet Sinner is all about. Sweet Sinner is for sinful sex, and they have just about every single base covered here too. One video you may see a teacher seducing their student. Another may see a man cheating on his wife, and another may have you watching a boss getting a little bit 'hands on' with their staff. In fact, the only type of 'sinful sex' that Sweet Sinner doesn't cover is incest, but there are far too many sites out there for that anyway, and none of it is that believable.

While talking about believable, it is believability that Sweet Sinner puts at the forefront of every single video that it produces. It wants some of the most realistic porn videos ever. Sure, some of the acting from the actors and actresses is a little bit shit, but the direction of these videos has a way of pulling you in and making it seem as if, almost, the situation is actually happening. Probably because it is. The type of crap that goes on in these videos is the same stuff going on behind closed doors around the world each and every day. Gorgeous, delightful sinful sex.

Head to Sweet Sinner and you will be wishing that there were more hours in the day (or you could ditch sleeping), because there is so much quality content to look at. Barely any of it is shit. Sweet Sinner can't afford for it to be. They were in the DVD business for a long time before they launched their site, and you know that to be in the DVD business you need to constantly pump out quality content after quality content.

The best part about Sweet Sinner is that its part of the Mile High Network. This means that in addition to access to Sweet Sinner, you will have access to seven other bonus sites. This includes:

– Doghouse Digital
– Reality Junkies
– Lesbian Older Younger
– Cherry Pop
– Mile High Media

Each of these sites will have hundreds of more videos that you can get your dick wet too, which means that you are always going to have something to enjoy. Barely a niche is not covered here, and they have microsites for things that other sites have not even thought about. You are going to be getting lost in the myriad of porn for a really fucking long time. Your hard cock is going to love you here. This makes a membership to Sweet Sinner one of the best adult entertainment memberships that money can buy right now.

Content Amount

There are 900+ videos currently across the Sweet Sinner network. On average, there will be a few uploads each week, although when the site is uploading some of their longer videos, you may see just one or two videos each week. This allows them to fund some of their bigger projects. The average length of each video is about 25 minutes. This means that you have almost 450 hours of content available for your membership price. If you are taking advantage of the membership price on this page, then you will be paying just 0.02 cents per video. There are very few sites out there which will give you as much value for your money. There are almost 1,500 photosets on the site, each of which has at least 200 photos in them, with many coming closer to the 300 images mark. Each time a new video is released, there will often be a matching photoset or two along with it, although Sweet Sinner is known for releasing their photosets with a far greater frequency.

Video Quality

Sweet Sinner is one of the newer porn networks out there, which means that the number of standard definition videos they have is kept to the absolute minimum The vast majority of what you find on this website will be available in full high definition (1080p). If you want to stream on the site, you can do so in either high definition or standard definition, dependent on the speed of your internet connection. If you want to download, then you also have the same choice. You can only download the videos in MP4 format. There are no download limits in place, so for the duration of your membership, you can download to your heart's content.

Exclusivity

The content that you find across the Sweet Sinner network is 100% exclusive to Sweet Sinner. This means that you will not be able to find it anywhere else. Many of the videos will appear in various locations across the Sweet Sinner network, but since you have access to all of them for your membership price, this is probably not going to be that much of an issue for you.

What You'll Get

The Sweet Sinner discount on this page will net you 30-days membership for just $9.95. This will give you ample time to check out the Sweet Sinner website and see 'what's what'. This is a far better deal than their standard 'try 2 days for $1'.

Fine Print

When your membership renews, you will be billed for $29.95 per month. If you do not wish to continue with your Sweet Sinner membership, then you should cancel your membership at least the day before. If you do wish to continue, then you can net yourself 12-months membership for $9.95 per month, although there are a few other deals that you can take too.

Downsides

The downside is the slightly higher than normal renewal cost. However, for the amount of quality adult entertainment you are getting here, and people do say that it is quality entertainment, the renewal price is more than worth it. You will notice that the second you sign up for the first time.

Conclusion

Sweet Sinner is a fantastic porn network. They aren't the largest out there, but they certainly pump out some of the best videos. If you want to see how much quality you are able to enjoy, you can sign up using clicking the coupons code button below. You will regret if you don't. This brilliant offer is not going to last forever!
CLICK HERE TO REDEEM THIS COUPON
CLICK HERE TO REDEEM
More Porn Deals & Coupons