Get This Discount Deal
30 Day Pass Only $9.95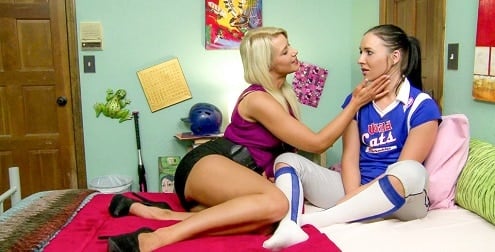 Girlfriends Films Features
Weekly updates
850+ lesbian scenes
Mobile access
Behind the scenes content
Exclusive girl on girl sex
Coupon discount deal
Lesbian porn sites are few and far between these days, but if you know where to look, you can find some incredible all-lady action! Girlfriends Films is one such place that focuses on this niche and there's no doubt in the mind of Mr. Porn Geek that this is a quality place to find all of the HD lesbian intimacy you could ever want. Boasting over 850 exclusive lesbian updates, behind the scenes porn, mobile access and more, anyone that's hoping to find great girl on girl action will get exactly that when they sign up to Girlfriends Films!
Girlfriends Films Discount
- Full Detailed Review by Mr. Porn Geek
About Girlfriends Films

The name of Girlfriends Films is a little bit misleading. You may think that when you are signing up, you are going to get tons of 'amateur' porn where a jilted boyfriend has decided to 'leak' videos of people that done them wrong. You aren't going to get that. You are going to get something better; pure lesbian porn. There are almost 2000 videos on Girlfriends Films, and all of them feature proper girl-on-girl action. Tons of different types too. Some of the videos on the site are going for the slightly more seductive sex, while tons are going for that pure rampant fucking. You know the stuff. The raw passion. You have old on young sex. Teens discovering themselves. Threesomes. White on ebony etc. If you can imagine a type of lesbian porn, then you can bet the last dollar in your pocket that you are going to find it on Girlfriends Films.

Since this company has been producing content for a while now, mainly through their DVD business, you know that they know how to make something which is really amazing too. The directing in their videos is always fantastic, and you know that when you whip your dick out and watch one of these pornos, you are going to be enjoying something that is really, really good. You don't get any bonus sites included with this GirlfriendsFilms discount. Some people think that this is an issue, but it really isn't. The problem with many adult entertainment sites is that they spread themselves a bit too thin. This means that when they have a ton of different microsites, most of them are not going to be getting content for ages. This means that if you have signed up for one of those microsites specifically, then you really aren't getting value for money. This ain't a problem with Girlfriends Films.

By focusing purely on one site, the studio is able to produce some of the best lesbian porn content around. It goes up at a rapid pace, with new 30-minute videos being added each and every week. It means that it is, without a doubt, the best place for premium lesbian porn online. There is no other site which is updating with the same frequency and with the same quality that Girlfriends Films boasts. Whether you take advantage of the voucher on this page or you just pay the full price for your membership to the site, you really will be getting real value for money.

Content Amount

At the time of writing, there is just under 2000 videos on GirlfriendsFilms. The average length of each video is 30 minutes, which means you have almost 1000 hours of content to watch, which isn't to too shabby. You will be looking for ways in which you can skip sleep so you can watch the fuck ton of porn available on the site. The update schedule is pretty regular. You should see new content being added on a weekly basis, although the amount being added each week can go up and down dependent on the quality of video that Girlfriends Films has decided to invest in that week. There have been some weeks where they have uploaded just one or two videos, but these videos are some of the best lesbian sex scenes you have ever seen.

There are no photo galleries on the site, which is a little bit weird for a company like this, but most people are probably not heading to adult entertainment sites to look at pictures. They are heading to these websites because they want to see some epic girl on girl action, and Girlfriends Films has a ton of that. All of the videos on the site can be downloaded, and there are absolutely no download limits in place. This means that you can download as much as your internet connection can handle once you are signed up to the site. Girlfriends Films actively encourages that you do it!

Video Quality

While you may find that some of the content available on Girlfriends Films is in standard definition, most of it is going to be available in full HD. You can stream and download in both standard definition and high definition on the website. You can only download the content in MP4, although this is something which should play on most computers, and if it does not play on your computer it is easy to get hold of the software needed.

Exclusivity

The content you find on Girlfriends Films is 100% exclusive to the site. You may find that some of it has been released on DVD under the same brand, although they are a DVD company so this is pretty much going to be expected. The DVDs will cost way more than your membership to the site anyway, so you won't give a flying fuck.

What You'll Get

Whacking the link below will grant you access to Girlfriends Films for just $9.95 for 30-days. This is more than enough time to check out the website and realize that it is a pretty fucking good place to be browsing. You will, of course, get access to Girlfriends Films for 30-days. This is a discounted price for those 30-days, with the 'normal' price being $29.95 per month.

Fine Print

If you do not cancel your subscription to Girlfriends Films by the time of renewal, you'll pay $29.95 per month. If you love Girlfriends Films, and just about everybody who uses the site does, you will be pleased to know that you can change up your membership plan before it renews monthly. This means that you can save a lot of money. How does paying under $100 per year sound?

Downsides

The only major downside to Girlfriends Films is that there are no 'bonus sites' included in your membership. Probably not an issue for most people because the amount of content you get here is great enough as it is, but it is worth pointing out as some people have come to expect bonus sites nowadays…even if many of them do tend to be a little bit shit.

Conclusion

If you love your lesbian porn (who doesn't?), you will be pleased to know that there is not a single site online which is better than Girlfriends Films. Sure, it is just a single site and not part of a huge adult entertainment network, but this is the biggest strength of the site. It means that it is always able to pump out top-notch lesbian porn. It is more than worth the price that you are paying, even if you do get rebilled at the higher rate. Why not give it a bash today? Your dick is going to thank you!
CLICK HERE TO REDEEM THIS COUPON
CLICK HERE TO REDEEM
More Porn Deals & Coupons
Show Me More Porn Deals