Amy Reid'S PROFILE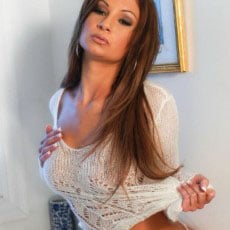 Amy Reid
pornstar details
Date of Birth: 15/04/1985
Ethnicity: White
Height: 170cm
Eye Color: Brown
Hair Color: Brunette
Amy Reid is the daughter of an American soldier who was stationed in Germany where she was born. Her ethnic background is a mix of French Creole and German and that helps give her the olive skin and slightly exotic look that people are familiar with. Her all natural body is mostly noted for her big 34DD breasts but her ass and long legs are also remarkable. In short she has one of the best natural bodies in porn and that's a title that goes a long way. Amy has kept her body art to a minimum and it takes the form of a few small tattoos around her left arm, middle finger and toe, and a couple of piercings. Following her high school years she attended college in California and studied mechanical engineering for a couple of years. She was also working at a couple of part time jobs at the time and the hard schedule plus a weak job market helped her realize that she needed to make a few changes.
When one day a random stranger told her that she would make a fortune if she worked in porn, she actually took it seriously enough to do some research on her own. After finding an adult talent agent she was thrilled to hear him say basically the same thing and he found her work immediately. It's reported that she took her clothes off in front of a bunch of different guys and was booked solid for at least a month in advance. Some of her very first films were done using her alias name Devin Valencia, but the bulk of material created with her has the name Amy Reid attached to it. In fact most of the movies also feature her picture on the DVD box cover because she became so recognizable so soon after her debut. Studios always recognize a girls potential and Amy's was through the roof according to reports by industry insiders. A business savvy person herself, she tried to keep her exposure to a manageable level to keep her career from burning out too quickly.
To date, Amy Reid has performed in more than 256 movie titles but her scene count is much higher than that. Many times different studios will release scenes from different titles in compilation videos and she is one of those pornstars who appears in many compilations. Especially if the theme is about big natural or beautiful tits because there's no denying that hers are world class. The best of the selection can be viewed at PornHubPremium right now whether you're at home on your computer or using your smartphone.
MORE PORNSTARS YOUR MIGHT LIKE
BACK TO PORNSTARS