MiaKhalifa'S PROFILE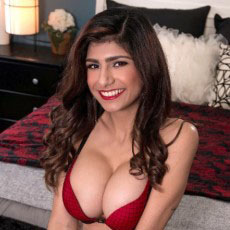 MiaKhalifa
pornstar details
Date of Birth: 10/02/1993
Ethnicity: Middle Eastern
Height: 158cm
Eye Color: Brown
Hair Color: Black
Owing to her Middle Eastern appearance, Mia Khalifa became popular in 2015 as a rise in problems in that region of the world she's originally from began to escalate. She was born in 1993 and after a successful year in 2015, she decided to retire. Mia's popularity came as a result of shooting to the top of Porn Hub's ranking for the most viewed pornstar on the site in late 2014. Many of Mia's scenes revolved around her ethnicity, owing to the fact that she was born in Lebanon – one of her first scenes for Bang Bros featured Mia in a traditional Muslim headdress, giving a certain sense of 'jihadi slut' to some of her productions.
After becoming a pornstar, Mia's parents stopped talking to her and while this upset Mia, she didn't quit porn for their sake. Interestingly enough, Mia's popularity led to her being searched heavily in Middle Eastern countries, such as Syria, Iran and Lebanon. She's appeared in a number of adult productions for a range of sites, including Score Land, Hustler, Team Skeet and many others. She maintains one of the most popular and active pornstar Twitter accounts, with over 1.4 million followers, gaining many in her years after leaving the porn industry.
Mia Khalifa's Instagram feed shows her to be a foodie gym lover that loves sports, flowers, memes and taking selfies with her pets. One of her most popular porn scenes involved Mia Khalifa having a sex scene with her stepmom assisting her sucking and fucking her new boyfriend's cock. The video has received over 40 million views on Pornhub alone and was one of the scenes that shot her to fame in the early days of Mia's porn career. While no longer in the industry, Mia is no stranger to posting sexy pictures and embracing her past.
MORE PORNSTARS YOUR MIGHT LIKE
BACK TO PORNSTARS