Get This Discount Deal
30 Days Pass for Only $14.95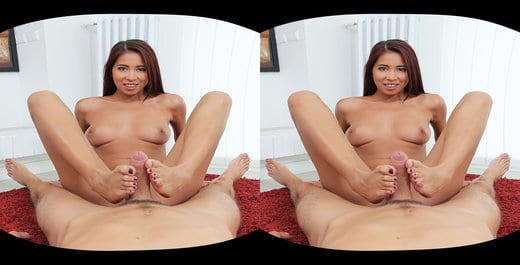 VRcosplayx Features
Amazing production value
Top quality 4K 3D movies
Owned by BaDoink
Support Top VR headsets 
BaDoink VIP with your pass
Coupon discount deal
VR Cosplay X is an adult website that is perfect for people who are into roleplaying. Cosplay is the act of dressing up as characters from TV shows, comic books, movies, and more. For many years, cosplayers around the planet have enjoyed fantastic role-play sex in their costumes. You can enjoy this as well, with a membership to VR Cosplay X. The films feature great tits, ass, and the most fun personalities in porn are filmed in 180-degree virtual reality. Even better, the incredibly hot bodies on the site are shot in fantastic 4K 3D quality.
VR Cosplayx Discount
- Full Detailed Review by Mr. Porn Geek
About VR Cosplayx

From characters that are featured in Japanese animation, all the way to costuming and sex scenes that feature characters from the most popular blockbusters out there, VR Cosplay X brings quality 3D cosplay sex to virtual reality headsets around the world. The quality of these films is incredibly high, and the movies are in POV which means that you are in the middle of all of this incredible sex. There are representations from many shows and video games, including games like the Legend of Zelda. Regardless of whether you are a gamer girl or guy, a fan of TV shows, a lover of films, or just somebody that loves fantastic role-play, VR Cosplay X is a site to take a look at for sure.

Content Amount

The production value that comes from all of the sites under the BaDoink VR umbrella is truly impressive. The company takes its time to create some of the most amazing virtual reality pornography films that you have ever seen. The attention to creating perfect POV movies using the most current technology is easily visible when you watch the films. The site at VR Cosplay X is still growing, and members of the site get other perks as well. These perks include access to BaDoink VIP as a bonus. BaDoink VIP is a 2D website that has thousands of high-quality movies, bringing even more variety to the already amazing VR Cosplay X membership. 

Video Quality

There are multiple ways to gauge video quality, and when it comes to watching and finding your favorite porno's, the top three things that people look for are the quality of the video visually, the quality of the video creatively, and the attention to detail within the art. VR Cosplay X excels in all of these things. The movies are shot in 4K 3D using amazing equipment. The team at the website knows what they are doing in terms of angles and creating the best POV clips out there. The creativity that is incorporated into these movies is also stellar. There is a difference between dressing up in cosplay and taking advantage of who the characters are to create some truly unique and beautiful scenes.

Exclusivity

VR Cosplay X creates exclusive content for its fans. You get even more exclusive content with the BaDoink VIP membership that comes as a bonus. This is exclusive content with the hottest models in the adult industry, including incredible talents like Penelope Cum and Alessa Savage. 

What You'll Get

Outside of getting some of the most incredible babes in the porn business, as well as the super high quality, 4K 3D movies and the bonus content that comes with your BaDoink VIP membership, you get a sense of realism that can literally take your breath away while you are enjoying all of the benefits of masturbation. This website seriously enhances the pleasure that comes from getting off masturbating, leaving its members extremely satisfied. The costumes and the makeup are amazing, and for people who love movies, TV shows, comics, literature, and other art forms, there are a lot of references and things to geek out over. Many of the scenes feature mainstream characters, meaning that everybody can enjoy the fantastic smut and raunchy sex that can be found at VR Cosplay X.
 
The ladies that they have chosen to shoot these films love being dressed up and are completely down for any and all kinds of sex. The site includes a good number of parodies, mixing humor and pleasure together smoothly and cohesively. With scenes that feature Lara Croft, Lady Deadpool, and many more super sexy icons, there is an incredible amount of fun to be had watching the explicit hardcore sex at VR Cosplay X.
 
Additionally, there is a wonderful help section to get people started who have not used virtual reality before or need help learning about their new headset. For people from the US that join the site, you can get a free cardboard headset when you sign up.

Fine Print

As with many porn sites, there are few aspects of the fine print that you will want to be aware of. Since you will know what they are, they are not going to be as big of a deal for you as they might be for other people. The first thing to be aware of is that not only is the trial very limited, but it will also re-bill you at a higher rate than just getting the membership without taking advantage of the trial. This is a tactic that many states use, allowing people to try the site out for free, but charging them a little bit more after. Sometimes it is better to just get the site, with all of the benefits that VR Cosplay X has it is likely the best choice for you.
 
Secondly, there is a pre-checked cross sale that you will want to take note of. If you do not want to be charged for this pre-check sale, simply uncheck it before proceeding to the payment page.Outside of these two items, there is no other fine print, and everything is very straightforward. 

Downsides

Some people consider the fine print points above to be downsides, but as long as you are aware of them, they are not impactful. The website does not have a search engine; nor does it give the ability for people save their favorite films for quick access later. These are minor downsides, but downsides nonetheless.

Conclusion

With an extensive range of costumes, and fantastic representation that is spread out through comic books, video games, movies, and more, VR Cosplay X is a great value. The movies here are high-quality, and the website features characters that are both extremely popular and lesser-known. The site works to make sure there are files for the most popular VR devices, and you will even get a free cardboard headset if you're a US customer who signs up. Overall, this is an incredible value, and the website provides a lot of unique POV videos that help add to the variety of porn its members watch. 
CLICK HERE TO REDEEM THIS COUPON
CLICK HERE TO REDEEM
More Porn Deals & Coupons
Show Me More Porn Deals