Get This Discount Deal
30 Day Membership Only $17.87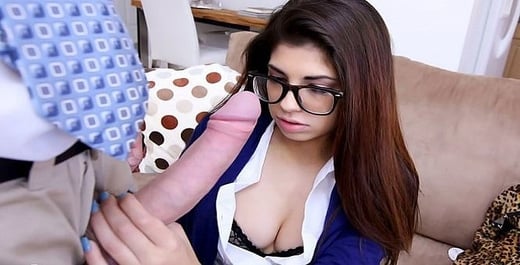 Teamskeet Features
Real teen babes
Many covered niches
HD content
Fast downloads
Premium access to 30 sites
Coupon Discount Deal
Team Skeet is definitely a household name in the world of porn and you can even argue that they are grossly overlooked by amateur porn viewers. But that shouldn't affect your opinion in the least bit because they really are the hub of amazing videos featuring hot teen babes, nasty coeds, and nubile looking babes getting nasty. With great promotional schemes and discounts, now is the best time to join their premium service and experience amazing benefits of great adult content
TeamSkeet Discount
- Full Detailed Review by Mr. Porn Geek
About TeamSkeet

Team Skeets is one of the most recognizable names in the industry, and at times, probably most underrated one as well. But the truth is; People visiting it get almost immediately hooked onto their content. The site is filled with gorgeous teen cuties with extraordinary bodies. Thes hotties are featured in videos and images ranging from amateur to fully professional production. The great thing about this network is that some of the greatest porn stars in the industry started their career on Team Skeet. The likes of Riley Reid and Karlee Grey started gaining their worldwide recognition after featuring in videos on this network. If you would go back to videos from 5 or 6 years ago, you would find the most famous porn stars at the sole beginning of their careers.

Team Skeets is a network of over 25 sites, all of which you get access to as part of your premium subscription. These sites became brand names on their own thanks to the material quality and the constant uploads of fresh videos. Exxxtra Small is a great example of how a niche site can become globally renowned and how the best commercial there is just happens to be top notch quality. Another site under the Team Skeet umbrella, Teen Curves, is also trending these days thanks to the sheer number of incredible videos. And if you are particularly interested in creampie action, you can check you out Teen Pies. In fact, the 30 sites that are part of this network (as of August 2018) are spread out across all popular niches. This means that you can, with a solo subscription, get access to a massive number of excellently produced porn videos. Talk about value for your buck.

The thing that separates this network from the others is that they almost exclusively focus on young chicks. You may find a mature babe here and there, but the vast majority of videos feature young and nubile cuties with amazing bodies that are getting absolutely wrecked by the biggest cocks producers can find. There are more than 3,000 scenes and the number still rises every day as the fresh videos are getting uploaded. Today's fresh babes are tomorrows pornstars and you can be the part of their meteoric rise to stardom. It's very comforting knowing that you followed someone's career from the very start, it almost makes you a part of that story.

By now you are probably wondering; how much is that going to cost? Seeing as there are so many videos and so many websites that a  premium account opens the door to, you would actually be surprised with the price. Team Skeets discount offer that is listed here is one of the best porn deals you could ever take advantage of. For less than $10 a month, you get access to absolutely everything on those 30 sites.

The reason why this is a great offer lies in an incredible user experience. The sites recently underwent a re-design and the entire network is now riddled with a fresh new coat of paint and cool features that allow you to find exactly what you are looking for. You can hover your mouse over the video in order to preview it, you can search by tags, titles, upload date, popularity, etc. Other things that ultimately separate Team Skeets from the competition is 100% exclusive content. You may find short videos and snippets on other networks and sites, but full scenes they feature can only be found on Team Skeets. This puts you in a distinct advantage of being the first one to discover the newest content and the up and coming porn stars.

The last thing worth mentioning is the availability of the videos. All sorts of formats are supported and you can use any device with an internet connection to watch and download videos. Premium users get access to unlimited fast downloads and high-quality streaming as well as kinky galleries that are just as good as the videos themselves. With over a decade in the business, Team Skeets definitely built a reputation for providing incredible service, great porn material and being an absolutely reliable partner in your masturbatory adventures. When Mr. Porn Geek rates a network with five thumbs up, you know that the quality of the service and the amount of content is not up for debate. In terms of value for money, this is one of the better offers available online. Having been a long time subscriber, Mr. Porn Geek definitely recommends you to check Team Skeets out.

Content Amount

With 30 sites under the same umbrella and more than 3,000 videos indexed in their library, Team Skeets really has a lot to offer. You might be thinking: hey, 3,000 scenes is not that many. But you probably forgot about the fact that these exclusive scenes, that can't be found on other sites. And you definitely forgot the fact that these are all full-length scenes, meaning you get close to 3,000 hours of incredible porn videos. And the numbers keep growing. The majority of the sites keep uploading fresh content and by the time you go through it, another batch is ready for you. The added value here is in the galleries. People underestimate the value of good image porn. The guys in charge of Team Skeets keep their fingers on the pulse of porn lovers and as soon as they feel the ground shifting, they react and instead of following trends, they set the trends themselves. That's why the amount of porn available on this network is always going to exceed the actual needs and that's why it's pretty much safe to say that another successful 10 years of business is ahead of them. And another 10 years of excellent porn is ahead of you for sure.

Video Quality

Team Skeets doesn't fuck around with quality. Every video is shot and edited professionally. A great number of supported formats guarantees that you will be able to play it after download and streaming is enabled on all devices that have internet access. Most of the content is HD, and premium users enjoy really fast download speeds. Team Skeets videos are quite distinctive and they are often used as an example of how a porn should be recorded, edited and delivered. With the average length of around 30 minutes, and no download limits for premium members, you could easily fill up a hard drive in an afternoon, storing enough great content for an entire year's worth of jerking off. Full HD formats are reserved for downloaded files and streaming videos are usually 720p, which is actually a good thing. Streaming video needs to be light enough to be accessible even by the older devices. The bottom line is; if you like kinky videos featuring young and sexy babes doing all sorts of nasty stuff, Team Skeets has one of the most extensive libraries of high-quality videos. With loads of HD videos added daily, you should never run out of things to jerk off to.

Exclusivity

You may be familiar with Team Skeet content because you saw some of their content. But chances are, you only saw a glimpse, a snippet that was taken from the original site and posted all over the web. That's not the way to experience a truly impressive scenes coming out of the production lines on Team Skeet. The correct way is watching the entire full-length scene, in HD. Only then you will truly appreciate the absolutely magnificent work these guys produced. You won't find these videos anywhere else on the Web. Team Skeet content is exclusive and that is the rule across the entire network. This means, that if you get a premium access, you are among the selected few in the world who get to check out every new video featuring the births of careers of future porn superstars. You can also check out the older videos and go all the way back to see how your current favorite pornstars developed their reputation. Team Skeet network, offers only exclusive content across the board and considering the quality of their videos, it's easy to figure out why their business model is so successful. Everyone should do the same thing as them; shoot, edit, and publish brilliant content exclusively for your members

What You'll Get

Team Skeet special discount offers tremendous value. For as low as $17.87/month, you get exclusive private access to all 30 of the sites under their banner. Most of these sites upload fresh content every day, and these incredible videos can only be found exclusively on their network. With current video library having more than 3,000 videos and the same number of image libraries, you really do get your money's worth by signing up to this special offer. And just to put it out there, these 30 sites include some really iconic names in the world of porn; This Girl Sucks, Exxxtra Small, Teens Do Porn, Rub A Teen, Teen Curves, Teen Pies, Oye Loca, Teeny Black, and Ginger Patch. Who can argue that access to 30 different niche sites isn't an incredible deal? With the amount of content currently available, even without factoring newly added videos, it would take you years to get bored by these young hotties. If not decades.

Fine Print

Industry standard terms and conditions and EULA applies of Team Skeet as well. There is nothing out of the ordinary in this regard, and as long as you stay compliant to the agreement, especially to the part of not re-distributing their content, you should be safe. There is also no reports or disputed form the members regarding hidden charges or account abuse. Personal data is stored and protected using banking-grade encryption methods. Team Skeet is a reputable name in the porn industry and you shouldn't expect any troubles or legal issues. They have a very positive track record in terms of customer support, no open disputes that Mr. Porn Geek could find, and most importantly, a very welcoming members community. From what I was able to research and test out myself, the number of members rose steadily over the last couple of years. This means business is booming and there is no reason to fuck around with fine print. So, use the Team Skeet discount offer, and enjoy the world if hot young sluts getting their pussies stuffed.

Downsides

There are no many downsides to Team Skeet premium access. It's not easy to nitpick when you have basically the best content on the Web, most of it full HD, with fast downloads, with so many niches covered. But, if you would really get deep into it, the only downside of it is that many really nasty niches are not covered. Team Skeet network primarily features young girls, teen babes, and college sluts. Occasionally, you can find a mature woman, and there isn't much of the content from that other side of the pool. For example, if you like to get really filthy from time to time and experience a true domination video, with ball gags, whipping, and lots of latex, the variety is not as big. Or if you want to venture into the world of furry and monster porn, you won't find much appropriate content on Team Skeet. So, as I said, if you would really nitpick, those would be the downsides of getting a premium account. And the search engine could be a little better and help you narrow down specific niche searches. Apart from that, everything else is quite peachy, all puns intended.

Conclusion

When Mr. Porn Geek reviews a site and gives it a five thumbs up, you know the shit is real. So when I posted a review of Team Skeet, I placed it on my watch list, looking for the moment to provide the best deal to my guys. And the moment is now. Team Skeet special discount is now in effect and considering that I thought the full subscription was worth your time man money, this offer makes even more sense. For as low as $17.87 a month, you get amazing perks, unlimited access to more than 3,000 well-produced videos, tons of niches covered, high-quality image libraries, fast downloads, and high bitrate streaming. Basically, you get a perfect jerking off companion that will make your masturbatory sessions as intense and fruitful as those you enjoyed back in high school. A porn deal like this one allows you to rediscover the charm of chronic jerking off and boost your masculinity. Bold claims for less than $18 a month, but when have you known me to be dishonest. This deal has my vote and I encourage you to try Team Skeet for just a bit, you will not end up disappointed.
CLICK HERE TO REDEEM THIS COUPON
CLICK HERE TO REDEEM
More Porn Deals & Coupons
Show Me More Porn Deals