Get This Discount Deal
Life Time Discount Only $17.99/m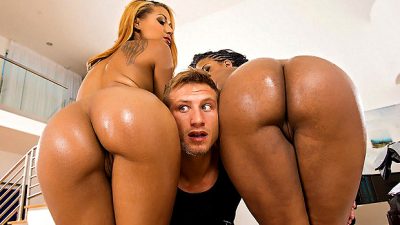 Round And Brown Features
Exclusive Ebony Videos
Daily Updates
Huge Porn Network
Reputable Porn Company
Black HD Movies
Coupon Discount Deal
Round and Brown is a premium porn network owned by one of the largest porn companies in the biz; Reality Kings. This means that you know you are going to be getting some awesome HD porn movies here. Many of these black girls featuring on this site are going to get fucked nice and hard in their bubble butts. If black porn is your niche, then signing up to Round and Brown will be your best bet for ebony porn. Remember: getting a premium porn subscription here will also give you access to the rest of the Reality Kings network.
Round And Brown Discount
- Full Detailed Review by Mr. Porn Geek
About Round And Brown

Who don't love seeing hot ebony chicks being fucked? Mr. Porn Geek does. There is something about how filthy these hot ladies are, and how round their asses get. Seriously. If you love yourself a good ass, then you absolutely need to watch ebony porn. There ain't nothing better than this.

Round & Brown has been kicking around since 2004, and since it is part of the Reality Kings network, Mr. Porn Geek guarantees you are going to get some hot shit if you sign up. Yep, that is right, full access to the Reality Kings network. Hundreds of videos just for you.

Round & Brown is all about those gorgeous ebony sluts. Not just any whore, though. This site only showcases those with huge knockers and asses rounder than a World Cup football. Couple of fat pussies thrown into the mix too. You are going to watch these filthy whores being fucked in all kinds of different positions, all across 600+ (and growing) epic sex scenes.

Round & Brown don't cut no corners when it comes to the filthy minxes they hire for their videos. Oh no. This is real top draw shit. Think along the lines of ebony goddesses such as Nola Blu, Moriah Mills,  and Julie Kay. If you can think of a hot ebony chick that is 'somebody' in the porn business, then chances are you will find them on Round & Brown. The best porn stars mean the best-acted porn scenes. It means the best moans. It means the best bodies. You are going to pop a chubby at every video here. There ain't no filler, just pure unadulterated black porn. You can't need more than that.

Something for every fetish on this site too. If you boys love yourself some good anal, then you have dozens of videos there. If you think that a good BBW fuck is more your thing, then Round & Brown is well ahead of you there. More into some sexy incest porn? Couple of videos thrown into the mix too. Of course; the focal point for all of these videos will be those hot little sluts and their huge, round asses. This means that you can expect some amazing close-ups. You certainly won't need a magnifying glass for the sizes of these touches! 

Not only can you stream all these videos online, but you can download all to your computer in glorious 1080p. This means that if you have no internet connection but you fancy a sneaky wank, then you can just download a couple of videos beforehand, and you will always have filthy ebony sluts fucking at your fingertips. You will never get bored.

Content Amount

Hundreds of videos touting some of the hottest ebonies in the business. You have content to satisfy every dirty kink of yours. 600 views, averaging 30 minutes each. That is a whopping 300 hours of content at your dick tip. If you viewed it all, Mr. Porn Geek guarantees you will be rubbing ya self raw. This is before you even think about the hundreds of other videos on the dozens of other sites in the Reality Kings network. This premium porn subscription is the only subscription you will ever need.

Video Quality

All videos on Round & Brown are watchable and downloadable in full 1080p. Not quite 4K, but knowing Reality Kings, it is likely that they will start to move their content to 4K in the future, and you will be able to enjoy all of it for your membership price.

Exclusivity

All the content you see on Round & Brown is 100% exclusive to Reality Kings. You may find some of the same content appear on the other sites in their network, but since you have access to all of those for one low premium porn membership price, it don't matter too much, it is as good as exclusive. If you ever see their content appear on a free porn site, not only is it going to be a shitty quality (barely VHS quality, let alone 1080p), then it will be removed sharpish. The only way you can see the best ebony sex scenes will be on Round & Brown…guaranteed.

What You'll Get

30 days access to the best porn network in the world…bar none. You will have hundreds of awesome ebony porn stars at your finger tips, all boasting some of the roundest and hottest asses in the business. Oh, and you will get access to the entire Reality Kings Network too. Not a deal to be sniffed at. Remember; you can view all these videos online, or you can download them to your computer for later viewing. A single one month subscription to Round & Brown will give you plenty of porn to get through in that time. You won't even want to look at a shitty free porn website again, not when you know just how much top shelf shit can be found at premium porn websites like this one and the rest of the Reality Kings network. There is a reason why there are 400,000 people subscribed to these sites, no doubt enjoying the huge quantities of porn that Reality Kings is banging out each and every week. You don't need to be banging anything out, well you do, you have dirty bitches at your finger tips, you may as well bang out a quick one while nobody is looking, right?

Fine Print

If you keep your Round & Brown membership, then it is going to renew at full price. If you want to keep your membership (who the fuck wouldn't as this site is great), then make sure you login to your account a couple of days before your membership expires and go for a whole year membership. It is about the same price as a few months, which is fucking amazing.

Downsides

Biggest downside is that Round & Brown is not adding content that frequently. Maybe one or two new videos a week. However, with the backlog of content the site has built up since 2004, and the wealth of content spread over the Reality Kings network, you have years of content available to you right away. No mess. Well, a little mess, but that is only cost this awesome shit is going to turn you on so fucking much.

Conclusion

If you want hot ebony porn boasting sluts with round asses and who are willing to do whatever they are told, then Round & Brown is for you. This is a premium porn deal that would make sense even if you were getting just this site, but when you get the 30 plus bonus sites in the Reality Kings network thrown into the mix, then grabbing your dick and double clicking the link below is a virtual no brainer, especially since Mr. Porn Geek's offer is better than the crappy one you get if you go to the site directly.
CLICK HERE TO REDEEM THIS COUPON
CLICK HERE TO REDEEM
More Porn Deals & Coupons
Show Me More Porn Deals