Get This Discount Deal
Sign Up Today For FREE!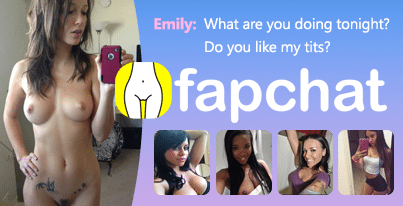 FapChat Features
Hot teens, and a lot of them
Works great on mobile
Features real members
Both anonymous and safe
Multiple membership types
Coupon discount deal
FapChat is made up of two different websites, FapChat.net and FapChat.com. These websites allow people to hook up and trade selfies with some of the hottest teens they have ever seen. You can get a regular account for free, and there is also a free premium trial for two days if you want to look at everything that the website has to offer. It is important to find dating websites that are safe and anonymous, letting you get to know people as well as sharing the naughty pics and videos that are so loved. No matter what device you are using, from tablets and cell phones, desktops or laptops, FapChat is easy to use and a lot of fun.
FapChat Discount
- Full Detailed Review by Mr. Porn Geek
About FapChat

FapChat was designed with you in mind. It is a fantastic place to trade selfies and nudes with some of the hottest people around, people of all body types, personalities, and desires. There are two different types of memberships that are available, regular access and premium. With FapChat, the process for signing up is simple. The first step is to create your account, which is free. After that, confirm your email address. Lastly, it is time to start receiving nudes.

Content Amount

The content on this website comes from its members, and the people on the site are not there to waste time. Chat, meet, and hook up with gorgeous women around the world. This selection of attractive babes are both sexually active and looking to hook up. As far as the amount, there is a lot. In addition to seeing the pictures that are on people's profiles, you can also get nudes and selfies from the women on the site themselves. This is good news for you guys who love women that get to action quickly.

Video Quality

The quality of the pictures and videos on the site can vary, depending on whether or not the member you are getting them from is using their webcam, cell phone, or sending pics taken with a better camera. While there is a range, most people are trading great pics of high quality.

Exclusivity

There is no doubt that some people on this site are on other places as well, but the members are real, and it is highly probable that some of them are only on FapChat.com. With the focus the site has on safety, it can be an excellent place to look at and trade hot pics with sexy 18+ teens.

What You'll Get

The sexy 18+ women that are using the site tend to be extremely comfortable getting naked, and sending pics of themselves to horny men like you is something that turns them on. They love to send pictures of themselves in hot bikinis, sexy lingerie, topless pics, and beautiful nudes. Finding people near you to share with and to flirt with is easy to do. The process for joining is simple, and there is even a free premium trial available for people who want to see all of the features of the website before signing up.

Since creating an account is free, it is possible to go in and see the basics easily. FapChat works well as a dating site and as a way to get entertainment and pics to add to your spank bank. The service is mobile friendly, and the members on the website are real. FapChat aims to ensure users an experience that is high quality by taking the time to verify each profile separately. This helps members or rest assured that they are getting messages that are coming from real women.

Additionally, the website seems are serious about providing users with the safest environment possible. Making sure that people are real is a huge first step, but allowing people to be anonymous and enforcing the sites rules and guidelines are other ways to help keep people safe.

Another fun feature that the site has is the ability to select different categories to search for people in specific niches. Categories include Asian, BBW, MILF, mature, 18+ teen, female, gay, lesbian, and others as well.

Fine Print

You will need to begin with a free account, and people can get a two day free trial when the site runs specials. Sometimes sites like this charge higher per month rates to people who utilize the free trial, meaning that getting a membership without the trial can save money in the long run for people who are looking to have one for a more extended period of time. The site has a 2257 statement at the bottom of the page.

Downsides

There are really not any pictures of the inner workings of the website that can be accessed without getting a membership, so you will have to join in order to see the pages inside. All of the women on the main page are age 18 and incredibly sexy, which can bring questions into the fray.

Conclusion

At the minimum, this seems like a fantastic place to get incredibly hot pictures of stunning babes. All of the images on the homepage are gorgeous women who are between age 18 and 20. Having a collection of people to share beautiful pictures of their tits, curves, short shorts, and likely insatiable personalities sounds like an incredible deal. Since initial access is free, there are no doubt many people who are looking to FapChat to satisfy their sexual cravings.
CLICK HERE TO REDEEM THIS COUPON
CLICK HERE TO REDEEM
More Porn Deals & Coupons
Show Me More Porn Deals