Get This Discount Deal
30 Days Pass For Only $14.95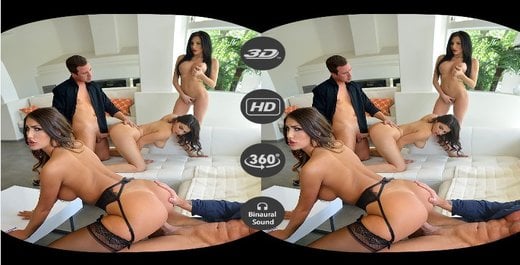 Babe VR Features
4K scenes are sharp
Compatible on all devices
180° and 360° Videos
Both POV and solo films
Amazing VR company
Coupon discount deal
Babe VR has stunning young women that people around the world are enjoying in high-quality virtual reality simulated sex scenes. These are sharp videos that take advantage of the creativity that virtual reality can bring. Their unique use of fake male torsos is well-loved by many of their fans. It is a unique concept that has gained traction. The VR porn videos on Babe VR include both solo films and films shot in POV for simulated sex that makes it easy to put yourself right there in the scene. That ass is right next to you, so close you could smack it.
BabeVR Discount
- Full Detailed Review by Mr. Porn Geek
About BabeVR

Babe VR has everything that you need in order to get an amazing and realistic sex experience. There are hot sex loving babes, high-quality virtual reality filming, and a lot of 18+ hotties strutting their stuff and having a fantastic time. Almost every pornstar out there wants to get more involved in the virtual reality world, so the website has a tremendous number of women to choose from. Stellar models like Jayden Cole and April O'Neil, among others, are featured on the site. The role-play is fantastic, and the outfits these fantasy chicks are wearing are out of this world. Make sure to check out the scene where Darcie Doll is wearing some of the sexiest stockings ever.
 
Babe VR utilizes fake male torsos, so you don't have to listen to another man moan or see their body where you are imagining yours to be. There are not a ton of videos on the site yet, but they are continuously updating, and the scene numbers will grow. The quality of the films that Babe VR has is excellent, so this is a website you will want to take a look at.

Content Amount

This website is pretty tiny, featuring just under 40 videos. Fortunately, it is also part of the BaDoink network which means it will continue to grow at a consistent pace. BaDoink is known for their high-quality content, and it is also a breath of relief to know that BaDoink VIP also comes with your membership. This VIP addition includes thousands of high-quality 2D videos to supplement the fantastic virtual reality you are getting from Babe VR.

Video Quality

Shot in phenomenal 4K 3D, the scenes at Babe VR have binaural sound and are shot in 180° virtual reality. Files are available for download for a variety of headsets ranging from cardboard to Oculus, Vive to PSVR, and many others. Also, the service is mobile friendly.

Exclusivity

The content that you find on Babe VR is exclusive and is unique in the fact that it uses fake male torsos instead of real men. These are movies that you cannot find anywhere else, and the production value the company films with is excellent.

What You'll Get

You will get a small website, but one that is growing. This is a site to keep your eye on, and it could be an excellent value for people who are interested in also picking up BaDoink VIP., which is included. The use of fake male torsos is nice. There are many ways to sort, rate, comment, and tag the films. People who join the site from the United States will receive a free cardboard headset, so if you have want to try virtual reality but have not wanted to buy a headset just yet, this is a great place to check out the world of virtual reality porn.

Fine Print

Take care to avoid the pre-checked cross sale on the sign-up page. The website itself is relatively inexpensive, as it is still growing, but that pre-checked cross sale can add quite a bit to the total monthly bill that you pay. Keep it checked if you want to purchase it, but don't forget to uncheck it if you are not interested.

Downsides

At some point, these pre-check cross sales are going to be a thing of the past, until then make sure that you are looking for them any time you sign up for a porn site. They are usually in a straightforward place to find, but people that are unaware are sometimes caught off guard when the new charges begin. Many members would prefer a search engine and the ability to favorite their top movies, but since the site is not that large, it is not wholly necessary here yet. Hopefully, this is something they will adopt in the future to make finding the porn you want to see a lot easier.

Conclusion

A small site that is growing quickly, Babe VR has come a long way over the last number of months. Check the website itself for the exact number of videos that are out right now, and keep in mind that the VIP bonus membership that you get adds a lot of content. The unique addition of a fake male torso does add points to people who prefer not to see another male body or hear another guy's moans while they're watching their favorite virtual reality porn movies. For many people, this will help them put themselves in the action a lot more solidly.
CLICK HERE TO REDEEM THIS COUPON
CLICK HERE TO REDEEM
More Porn Deals & Coupons
Show Me More Porn Deals