Who are these black dating networks designed for?
Everyone – provided that the partner you're looking for is black, or that you yourself are black. A lot of people believe that ebony dating portals are just for blacks who are interested in blacks, but the reality is that anyone can use these types of communities if they desire something a little on the dark side of life. One thing I will say is that most networks are based and operated around the US – you might get lucky in other English-speaking Western countries, but because they typically lack large black communities, the numbers for those parts of the world are likely going to be small compared to what America has. You can still try – and you might get lucky – but yeah, your boy MrPornGeek is always going to give you a little honesty whenever he can.
What factors do you use to rank the best ebony dating communities?
It's a sweet science that I've worked on over the years. Anyone that has visited the blog of Mr. Porn Geek knows all too well just how much I enjoy black women – Jazzma Kendrick is a prime example of the type of lady that would make me pop in a matter of seconds. So yeah, what I'm looking for is a good balance of male/female users, a good quantity of black users, plenty of search features, a great visual design of the profiles people have created and of course, active communication between people that are inside. I also like places that are quick to join and don't require payments to use: it makes recommending them to my users interested in black dating online a little easier.
Do you have any tips for creating a good dating profile?
The biggest tip I can offer? Stand out! Show yourself to be interesting and unique – hooking up and dating is all about the numbers game. The harder you try, the more likely you are to get some returns on your investment. Dating profiles should be interesting and show a little bit of flare – you should also make sure that your messaging game is up to scratch. Trust me, sending a girl 'Hey how r u' isn't going to get you laid unless you're 6 feet 4 inches tall, rich and ripped as fuck. Be funny and interesting when contacting potential ebony dates and I promise you, success will come. Anyway – I'm out: thanks for dropping by and I truly hope that your usage of these black dating platforms is as successful as you wish it to be.
READ MORE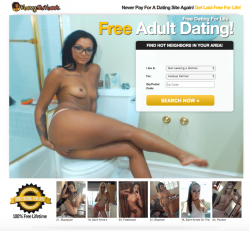 AFF BlackSexMatch
I have to say, all these black girls looking to hook up and fuck on BlackSexMatch is insane! - There's simply too many to choose from. If you're looking to get a quick and easy fuck from a sexy as hell back chick, well this is the site you need to be on.